Calling all coffee lovers! If you follow me on Instagram, you know we got a Nespresso machine for Christmas. And I will be the first to admit, I was skeptical. I mean how much better could it be than my Keurig coffee maker? A LOT actually. Since sharing my new found love for this tiny single-serve brewer I have received so many questions! So I felt like a deep dive into the the differences, pros, and cons of each of these single-serve coffee machines was in order.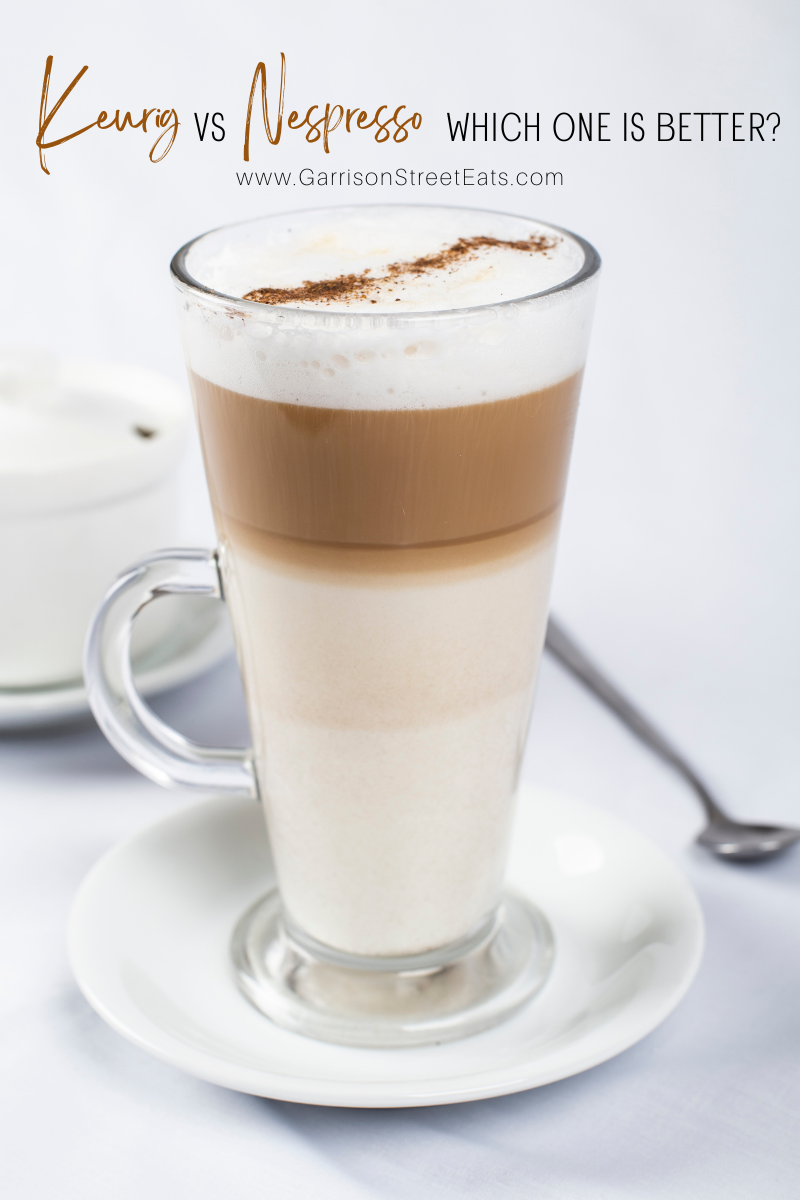 This post contains affiliate links. Please see my full disclosure policy for more information.
My first experience with Nespresso
I first encountered Nespresso on our honeymoon when we had an original Nespresso machine in our hotel suite. Neither of us had ever used one before and this was before pod machine coffee makers where the "it" thing in North America. The convenience was definitely alluring and the coffee was strong! We were definitely fans from the beginning.
Prior to getting our Nespresso coffee maker we had a Keurig pod coffee maker. We made the switch to a single serve machine because we never found ourselves finishing a whole pot of coffee which was the case with our traditional coffee maker. Although we did grind our own coffee beans, so I do think it made better coffee. It just wasn't as convenient.
What is the difference between Nespresso and Keurig machines?
Two of the biggest names in coffee making, Keurig and Nespresso, so what's the difference? At the basic level, both Nespresso and Keurig coffee machines are considered single-serve coffee makers or pod coffee machines that use coffee capsules rather than a traditional coffee filter and regular ground coffee to brew a single cup of coffee. Both can be found in different models that vary slightly in features. But the main differences between Nespresso and Keurig are related to the pods, how they brew coffee, and what they can brew.
Nespresso pods have aluminum bodies and specific barcodes the machine reads to brew the perfect cup of coffee or espresso every time based on the type of Nespresso capsules you are using. It adjusts the flow and volume of water as well as the water temperature and infusion time of each capsule making every cup super silky and creamy before you add any cream or milk. This brewing process uses high pressure and creates a delicious cup of coffee more like authentic espresso.
Keurig brewers have a similar brewing technology as Nespresso but they use a water pump to lightly pressurize the pod for brewing. But the main difference in my opinion is Keurig capsules don't use enough coffee and the machine defaults to 8 ounces of water for all pods. This method waters down the coffee but most importantly makes it more bitter because it over extracts the flavor from the grounds.
What they brew
The Nespresso Vertuo can make espresso shots and coffee or cappuccino and lattes if you buy the model that comes with the milk frother. Our model has the milk frother and I am loving it! I highly recommend!
The Keurig only makes coffee in varying strengths based on how much water you select, but it does not auto sense. Some of Keurig's k-cup options also include hot chocolate and tea but all the capsules are brewed in the same manner. The Keurig K-Cafe does come with a milk frother though.
Can you use Nespresso Pods in Keurig?
No. They are not a compatible pod. Nespresso pods and Keurig pods are different sizes and shapes and are not interchangeable. Keurig cups look like mini cups without handles and Nespresso pods are round and look like half spheres. In addition to key differences in size and shape, Nespresso pods also have a barcode printed on each capsule that is read for each brew calculating how much hot water should be used as well as the right pressure and intensity.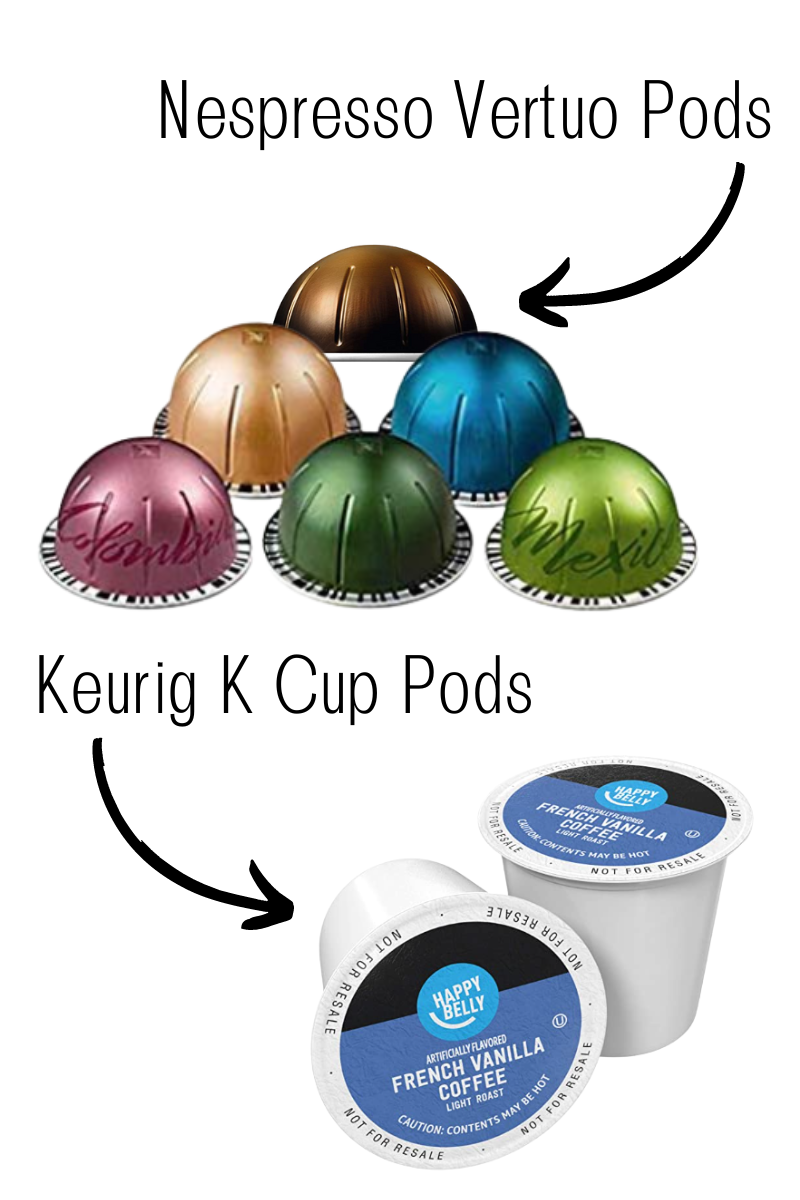 Why Nespresso Coffee Machines?
The simple answer to this is good coffee in a fast and convenient manner. If you are an avid coffee drinker you will taste the difference right away! The silky texture of the coffee and the rich taste is undeniable. I have always been the kind of coffee drinker who likes a little coffee in my cream and sugar, but now I can drink it black which I never would have done before.
Nespresso Pros
Amazing, high quality coffee and espresso in a wide variety of flavors. I can make a small shot of espresso, a full size cup of coffee, or even a cappuccino or latte with no special barista skills. All I need is my Nespresso espresso machine and the milk frother. I don't even have to leave the house! And did I mention the capsules are recyclable? I can mail back my my used pods (for free) and Nespresso will recycle them and compost the coffee grounds to make nutrient rich topsoil.
Nespresso Cons
Price. You know that saying, you get what you pay for? Well…..it's true. Nespresso does cost more than regular coffee or Keurig k-cups. The price range for the Vertuo machines run from $100-250 depending on the model and features like the milk frother. The Nespresso Vertuo pods are a different shape from the original pods too. Depending on the variety and where you buy them, the Vertuo pods range in price between $0.80-1.25 per pod. This is definitely more than I was paying for a k cup ($0.33 at Costco) but it is still less expensive than getting a cup of coffee at my local coffee shop.
Keurig Pros
Keurig K-cups come in a large variety of flavors and can be bought at big box wholesalers like Costco at a cheaper price of around $0.33 a serving. They also make pods for hot chocolate, tea, and cappuccino and offer reusable capsules that you can use with your favorite ground coffee. The Keurig machines also tend to be a little less expensive, although the Keurig K-Cafe is a higher priced model.
Keurig Cons
In my personal opinion, it just doesn't make that good of coffee. I have tried a variety of flavors and coffee brands and they all end up tasting watered down and bitter. I have even tried the cappuccino capsules but unless you make it with only 6 ounces of water, those too are very watered down. I feel like I have to test each type of capsule a few times with different amounts of water to get it just right. Then next time I have to remember to select that manually, which I always forget.
Nespresso or Keurig?
For me, it's Nespresso! And I was majorly on the fence when Barry said he wanted to make the switch. I liked that my k-cup pods came in different brands, offered a reusable k-cup for traditional ground coffee, and can make hot chocolate. And most of all I liked the price. But I said yes anyway and have no regrets! The nice thing is Nespresso offers different types of coffee pods and different ways I can brew coffee, espresso, or milk-based drinks. I am not just stuck with generic coffee. I also don't have to guess how much water to use because my machine already knows! No more bad watered down coffee. I have even started to drink some of my cups black which is BIG deal for me!
Final thoughts
If you are searching for a single serve coffee machine with versatility and high quality coffee, Nespresso should be at the top of your list! And a lot of higher end stores like Williams and Sonoma and Crate and Barrel have demo machines at your local stores and will make you a cup to try.
If you like to put on a whole pot of coffee and drink larger sizes, a traditional coffee maker might be your best bet. But most of the Nespresso pods are stronger than k-cup coffee and traditional coffee so you might end up drinking less cups a day. But overall pod coffee machines do cost more per serving and may not be a great value if you drink a pot or two a day.
But if you are looking for a single serve coffee maker and are not willing to shell out big bucks for a gourmet espresso machine and take a class on how to become a professional barista, the Nespresso Vertuo is the way to go. Like I said before, when we used our traditional coffee maker we wasted a lot of coffee because we never drank the whole pot. That is what ultimately convinced me to switch to use coffee pods.
Coffee and Espresso Cups
Prior to getting our Nespresso machine, we always enjoyed our cups of coffee in normal coffee mugs that came with our dishes. But after making our first cup of espresso and seeing the small amount of liquid at the bottom of such a big cup, we decided that these were a much better fit! And for lattes and cappuccinos the best way to really enjoy them is in a glass mug so you can see the milk froth!
I hope this helps you decide which coffee machine is the right fit for you!
Did you enjoy this post? Hover over an image and save to Pinterest! And if you don't already follow me on social media ( Instagram, Pinterest, TikTok or Facebook ) I would love for us to be friends!
Love new recipes and kitchen talk? Subscribe so you never have to ask what's on the menu. Delicious recipes delivered straight to your inbox 😉
This post, Nespresso vs Keurig, appeared first on Garrison Street Eats.