Best Chocolate Chip Cookie Recipe Without Butter
Chocolate chip cookies are an all American staple and to me are THE cookie. There are many recipes out there but this chocolate chip cookie recipe makes the perfect chewy cookie with crispy edges. I have been making chocolate chip cookies for as long as I have been baking but my favorite way to make delicious cookies is without butter. That's right no butter required for what I believe are perfect chocolate chip cookies. And believe me, there are never any left over!
This post contains affiliate links. Please see my privacy policy for more information.
I am going to start off by saying, if you are here for a healthier cookie or a fat free cookie, you are in the wrong place. I have seen many cookie recipes for homemade chocolate chip cookies that do not use butter for a healthy cookie. I repeat, this is not that. I believe in having a healthy relationship with food which means moderation. I do not eat cookies every day, but when I do, I want it to be worth it and actually taste like a cookie not a salad with chocolate chips. You know what I am saying? If you are after a healthier sweet treat, check out my fruit smoothies!
Basic ingredients of a cookie
For the most part, regular chocolate chip cookies are composed of a few basic ingredients for a reason. These ingredients in varying quantities can produce very different cookies but the building blocks are essentially the same. Let's go over the basics.
Flour – There are several different types of flour when it comes to baking. When making pizza dough I use bread flour because it is higher in protein and helps give the dough structure. But when making cookies, I stick to all purpose flour. Bleached flour will result in a lighter colored cookie while unbleached flour will brown a little quicker. Bread flour can be used but will give you a denser cookie. Whole wheat flour will also result in a denser cookie and a nuttier taste.
Sugar – Sugar is one of the key components to all cookie recipes and establishes the ph of the cookie dough. Almost every cookie recipe I have seen calls for at least some white sugar or granulated sugar. The ratio of sugar to the other ingredients will determine the structure of your cookie. This is why I do not believe in substituting sugar with apple sauce. Sugar plays a much bigger role than just calories.
Brown Sugar – Light brown sugar or dark brown sugar? While these two can be substituted for one another they will not yield the exact same flavor or structure. Brown sugar is simply sugar with molasses added, but how much is what gives you dark brown sugar or light. As their descriptions suggest, light brown sugar has less molasses than dark. Molasses is acidic and will react with the baking soda which will be slightly different based on light or dark. My favorite cookies are made with equal parts white sugar and light brown sugar for a chewier cookie.
Butter – Butter is the primary fat content in the cookie but also contributes to the overall structure of the cookie. Most cookie recipes and baking in general call for creaming the the butter and sugar in one of the first steps. This is important! If you melt the butter, the fat will not combine and coat the protein in the same manner and you will end up with flat thin cookies. This is why I like to use vegetable shortening or Crisco. Because it is stored at room temperature and has a similar texture and fat content, it is the best substitute for butter.
Vanilla – When baking, you should always use pure vanilla extract. It adds an extra sweetness that combines with the other ingredients to create a complex flavor in baked cookies. Too much vanilla is over powering, but a little bit will give you the best final product.
Eggs – This is your binder for all the wet ingredients and dry ingredients. Not only will it hold everything together, but it will also add moisture to your cookies due to the high water content in the egg whites.
Baking Soda – Do you really need this? YES! Baking soda is usually a very small ingredient but a very important ingredient! The baking soda reacts with the acidic brown sugar and produces carbon dioxide which creates softer and thicker cookies.
Salt – A little bit of salt helps balance out all the sweetness from the sugars in cookie dough. A little bit goes a long way, and whatever you do, DO NOT measure it over your large mixing bowl! No one wants to throw away cookie dough!
Cornstarch – If you love soft and chewy cookies, cornstarch is the secret! It creates a slightly thicker cookie with a soft and chewy consistency. If you don't have cornstarch, skip it but make sure you grab some for next time you bake these easy chocolate chip cookies.
Chocolate Chips – Obviously we cannot have a chocolate chip cookie without this, but there are more options than you may think! My personal favorite is the Nestle Toll House Semi Sweet chocolate chips. They are similar to dark chocolate and give a better contrast of sweetness to the cookie dough than milk chocolate chips. You can also use chocolate chunks which come in dark, milk and extra dark chocolate!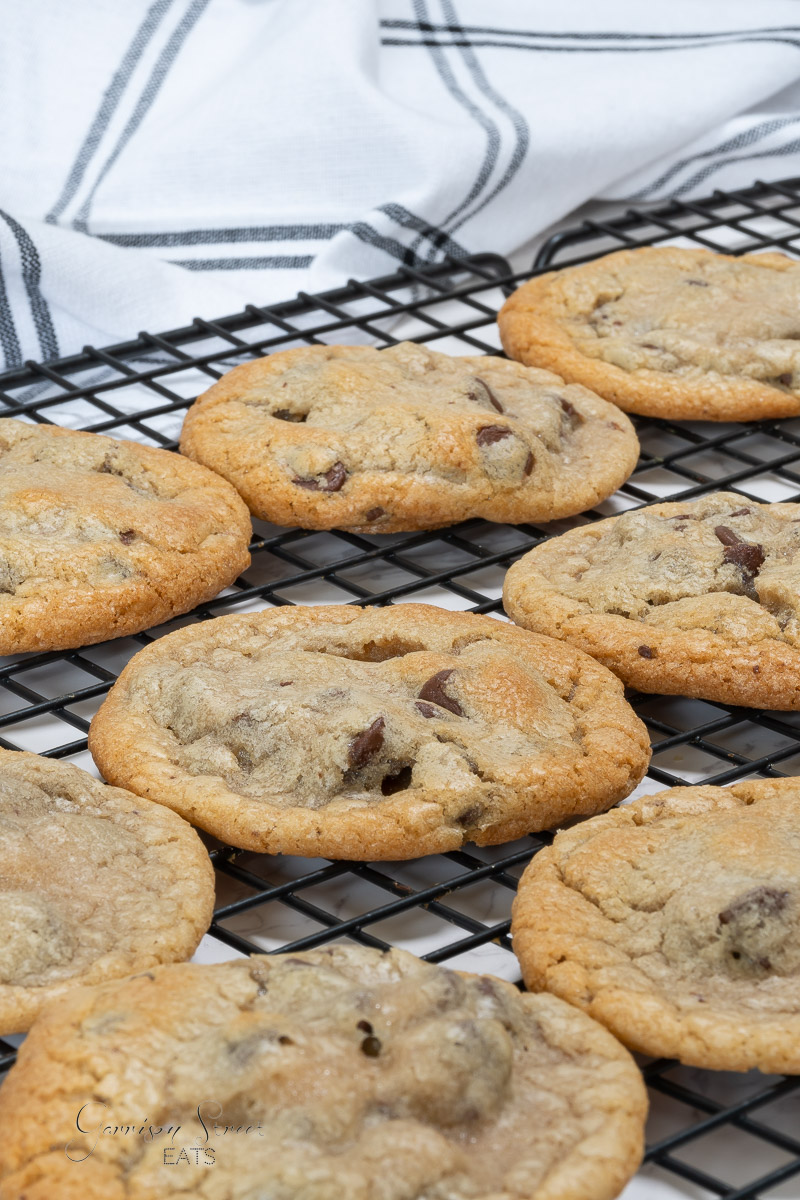 Can you make classic chocolate chip cookies without butter?
Yes, but not all substitutes are created equal. There are many suggestions out there to use in place of butter like vegetable oil, canola oil, unsweetened applesauce, melted coconut oil, and Greek yogurt. But because of the liquidity and fat content I do not find them to be good substitutes. Not to mention their chemical make ups and how they react with the other ingredients. While peanut butter or almond butter have a similar texture to butter, they also have a very distinct taste which will change the overall flavor.
For me, the best butter substitute is Crisco. It doesn't alter the texture or the taste of the cookies and actually comes in butter flavor if you don't want to give that up. However, I usually use the original plain version. I substitute equal parts butter to Crisco. So if a recipe calls for a cup of butter, I would use a cup of Crisco. It is also vegan! While it is different from vegan butter which usually needs to be refrigerated, it is vegan and creates delicious chocolate chip cookies.
Why do I use Crisco?
This is simple, my grandmother used to bake with it all the time. I usually use the Crisco sticks because they are very convenient and they come in a butter flavor! But if you are using Crisco for the first time and buy the tub instead, it is easy to measure out with a spatula and measuring cup. It can also be used to grease pie pans and other baking dishes. Not to mention it makes amazing pie crust! You can find it in the baking aisle in your grocery store. Of all the butter replacements out there, I think Crisco gives the best results that actually taste like real cookies. I mean who wants to eat avocado cookies? I like avocado toast but I'm not sure how I feel about green chocolate chip cookies. Just saying.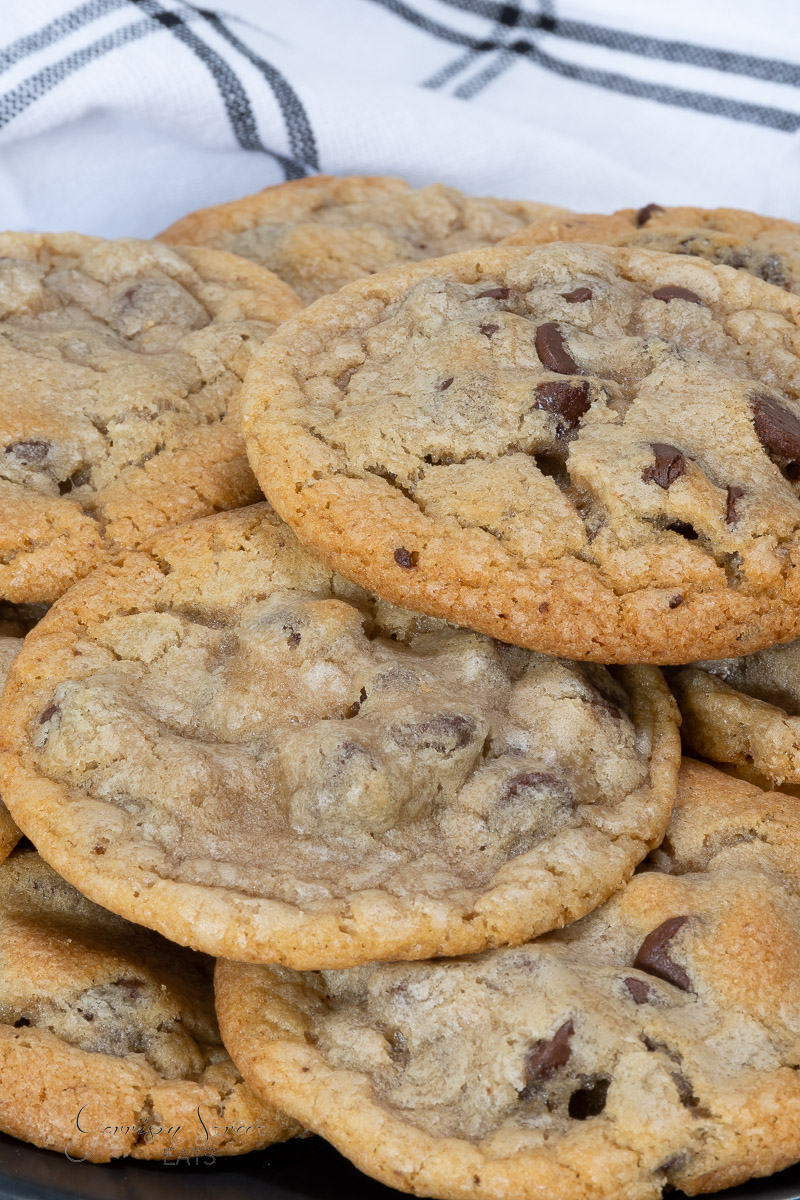 Tips for making the best chocolate chip cookies
Not only do the fate of your chocolate chip cookies depend on the actual recipe and if you make substitutions, but it is also dependent on some additional factors.
Baking Time. This is one of the most important but most frequently overlooked. While in a perfect world everyone would have the same oven and baking time would never vary, that is not reality. Not every oven is the same and we will all likely experience different results because of this. I will always provide a suggested baking time, but as a good rule of thumb you should always be watching them closely. I prefer gooey cookies and never want them to be over done. They can always cook for extra time but they cannot bake less.
The perfect cookie scoop. I might have OCD just a little so making cookies the same size is important to me. Not to mention it makes the baking time more consistent. I always use a cookie scoop to make my cookies the same size. This also speeds up the time to get all my cookie dough balls onto a baking sheet
Cookie sheet mats or parchment paper. I always line my cookie sheets with a baking mat. This helps bake your cookies more evenly and keep your pans clean. My baking mats have circles outlined for cookies giving me perfect spacing every time. The best part is they are reusable. If you do not have a baking mat, you can use parchment paper instead.
Best Chocolate Chip Cookie Recipe Without Butter
This easy recipe makes the best butterless chocolate chip cookies! Soft and chewy in the center and crispy on the edges, all you need is a glass of milk.
Ingredients
2 1/4

cup

all purpose flour

1

tsp

baking soda

1

tsp

salt

1

tbsp

cornstarch

1

cup

Crisco

3/4

cup

sugar

3/4

cup

light brown sugar

1

tsp

vanilla extract

2

eggs

12

oz

semi sweet chocolate chips
Instructions
Pre-heat oven to 350 degrees.

Combine flour, baking soda, salt, and cornstarch in a medium size bowl and whisk together. Set aside.

In a separate large bowl with a hand mixer or stand mixer with a paddle attachment cream Crisco, sugar, and brown sugar until light and fluffy.

Add vanilla and eggs to butter mixture and mix on low speed until combined.

Combine flour mixture with wet ingredients one cup at a time, mixing until combined. Do not over mix.

Scrape down the sides of the bowl.

Add chocolate chips lightly mixing until evenly distributed. You can also mix in by hand with a wooden spoon or spatula.

Scoop cookie dough onto lined or greased baking sheet with a cookie scoop.

Bake for 8-11 minutes or until golden brown. Cooking times will vary.

Pour yourself a glass of milk and enjoy!
Notes
Only mix the ingredients until they are combined. Do not over mix.
Cooking times will vary. You may need to put your cookies back in for a second time, cook them longer, or cook them less. So make sure you are watching them. 
Crispier cookies will need longer bake times.
Consuming raw cookie dough is not advised and can lead to food born illness.
Mixing Options
I prefer to use my stand mixer with a paddle attachment. If you do not have a stand mixer, you can use a handheld mixer instead. Using an electric mixer is a great way to speed up the process and get to eating your cookies sooner 😉 If you do not have a mixer, you can use a wooden spoon or a spatula, it will just take you longer.
Can I add nuts?
Absolutely! I am a cookie purist and prefer mine without nuts, but you can add them if you like. Pecans and almonds are popular choices. Just add a cup when you add in the chocolate chips.
Storage
Cookies will keep fresh for four days in an airtight container. I do not recommend freezing baked cookies. If you need to make cookies a head of time, make dough and dough balls and freeze in a large freezer bag or container for up to two months. Remove from freezer and bake frozen dough. Note, cooking time will increase slightly by a few minutes but dough doesn't need to be thawed if it is balled up before freezing. Bake for 8-14 minutes.
Did you love this recipe? Give it a five star rating and tag @garrison.street.eats on Instagram and hashtag it #garrisonsteats. Wanna save it and make it later? Hover over an image and save to Pinterest! And if you don't already follow me on Instagram, Pinterest, or Facebook, I would love for us to be friends!
Love new recipes? Subscribe so you never have to ask what's on the menu 😉
This post, Best Chocolate Chip Cookie Recipe Without Butter, appeared first on Garrison Street Eats.