Homemade Chocolate Chip Mocha Frappuccino
This chocolate mocha Frappuccino is a nod to one of my favorite Starbucks beverages, the mocha Frappuccino. It is full of chocolatey goodness and the caffeine fix most of us crave in the mornings. It only has a few simple steps and you can make it in your own home for a fraction of the cost. All you need is instant coffee, ice cubes, Starbucks hot cocoa mix, milk, and an 1/8 teaspoon vanilla extract. With a chocolate lover household, I make these on a regular basis.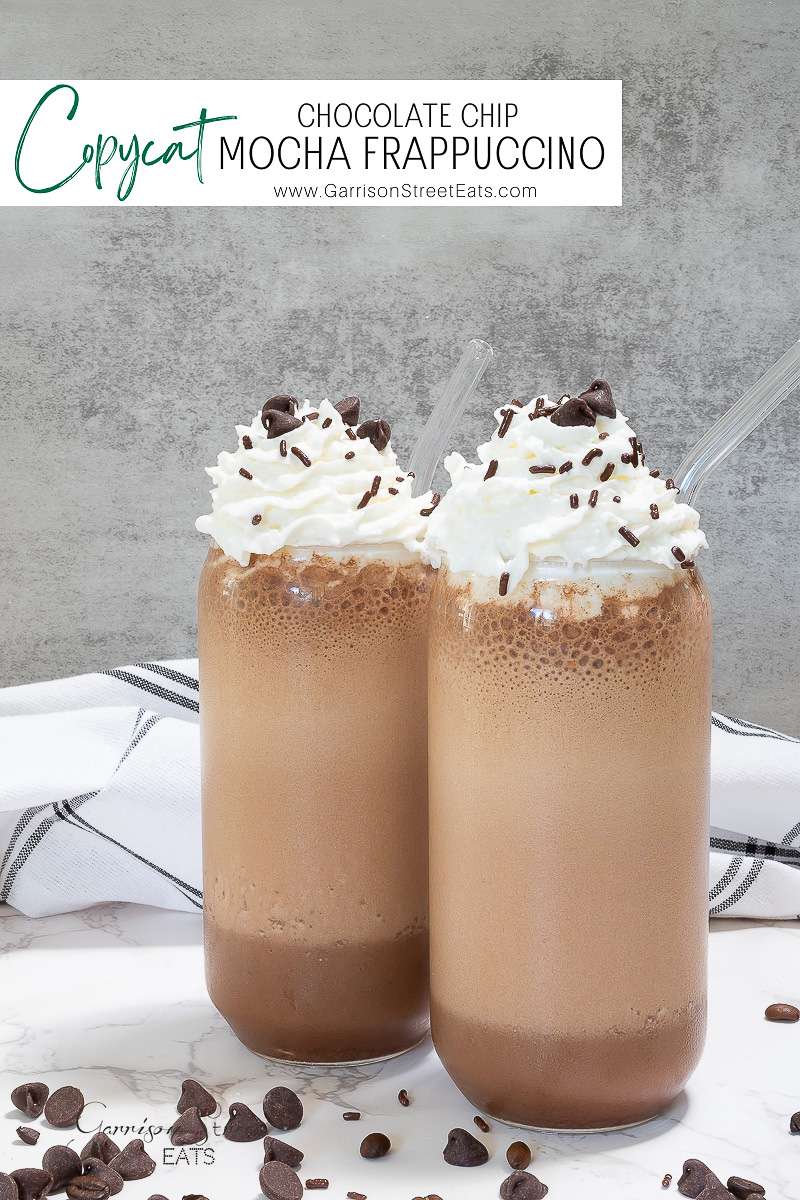 This post contains affiliate links. Please see my privacy policy for more information.
Every Saturday morning my husband asks if I can make Starbucks drinks. Luckily, it is an easy recipe with simple ingredients you could actually make it every single day. But for me, I like to reserve my favorite indulgence for the weekends. If you are a cold coffee lover, you will likely love these frozen coffees too.
Why I love this easy double chocolatey chip Frappuccino recipe
Quick: You can easily make this full recipe in 10 minutes for two people. You can't get through the Starbucks line at 8 am on your way to work that fast.
Easy: There are no time consuming steps. You don't even have to brew the coffee. Just toss a few ingredients in the blender and you are done!
Taste: This is one of my favorite drinks! It has just enough chocolate and caffeine boost to start your day.
Healthier: I don't like to dive too much into health benefits because I am not a dietician, but it doesn't take a professional to know that 2% or skim milk is better for my waistline than heavy cream.
Mocha Chocolate Chip Frappuccino Ingredients
This is a simple recipe but the best part is it can an be modified with different ingredients for your taste buds or dietary needs. All you need is the basic recipe to build your own cold Starbucks beverage.
Instant Coffee. The first thing you need is coffee. I am not usually a fan of instant coffee when I am just after a cup, but it is the perfect ingredient to make a multitude of at home coffee drinks. This can be found at your local grocery store in the coffee aisle. If you prefer strong coffee, add a little extra or a shot of espresso instead.
Hot Cocoa Mix. The Starbucks hot cocoa mix is hands down the best in my opinion. I usually buy it at Costco but you can buy it here too. It has a rich taste that creates a decadent chocolate flavor whether you are making hot cocoa or a chocolate Frappuccino.
Liquid Ingredients. As with any blended coffee you would get at your local coffee shop, you will need a little bit of liquid to blend it all. I prefer to make mine with 2% milk, however you could also use whole milk for a creamier version or low-fat milk for a lower calorie option. You could also use a plant-based milk like almond milk, soy milk, or coconut milk for a vegan option, but these may change the taste a bit.
Vanilla. I only use a small amount of vanilla extract, but for real vanilla lovers, add a little extra or mix in a scoop of vanilla ice cream or vanilla syrup.
Ice. This is not only going to make your beverage cold, but it will give it the frozen component. If you want to go all out and make it a dessert, feel free to use less ice and add a scoop or two of vanilla, coffee, or chocolate ice cream. This will definitely make it more creamy.
Toppings. I like to top mine with whipped cream, a chocolate drizzle, and chocolate pieces. I usually use semi-sweet chocolate chips but dark chocolate chips or mini chocolate chips are a great option too. You can also use chocolate sprinkles.
Blender Options
When making a blended coffee with ice, it is very important to have a high-powered blender or your homemade Frappuccino is going to taste more like an iced coffee. I have had this blender for over 10 years now and it is a Rockstar. It blends frozen ingredients very well and even crushes ice like a pro. Trust me you want a good high-speed blender.
Homemade Chocolate Chip Mocha Frappuccino
A nod to everyone's favorite coffee shop, this double chocolate chip Frappuccino is a great way to start your day. An intense chocolate drink with a boost of caffeine.
Ingredients
4

cups

ice

2

cups

milk

2

tbsp

instant coffee

2

tbsp

Starbucks hot cocoa mix

1/2

cup

chocolate chips

1

tbsp

chocolate syrup

2

tbsp

sugar

1/4

tsp

vanilla extract

whipped cream

for topping

chocolate syrup

for topping

chocolate chips

for topping

chocolate sprinkles

for topping
Instructions
Combine the first 8 ingredients in a powerful blender in the order listed above.

Blend on high for 2 minutes or until smooth

Top with whipped cream, chocolate chips, and chocolate sprinkles
Notes
If you use brewed coffee rather than instant, you will need to decrease the amount of liquid you add to the blender and you will need to chill the coffee prior to blending. Otherwise it will just melt the ice. This will make a runnier version.
If your Frappuccino is too runny, add more ice and a thicker liquid. The less fat content your liquid has, the thinner the Frappuccino will be.
For a vegan option, skip the whipped cream and milk and use a plant-based milk.
For a more filling version, add a scoop of vanilla or chocolate protein powder.
For less caffeine, use decaffeinated instant coffee.
Did you love this recipe? Give it a five star rating and tag @garrison.street.eats on Instagram and hashtag it #garrisonsteats. Wanna save it and make it later? Hover over an image and save to Pinterest! And if you don't already follow me on Instagram, Pinterest, or Facebook, I would love for us to be friends!
Love new recipes? Subscribe so you never have to ask what's on the menu 😉
This recipe, Homemade Chocolate Chip Mocha Frappuccino, appeared first on Garrison Street Eats.