Best Ginger Beer for Moscow Mules
Lately I have been on a Moscow mule cocktail kick. But I have quickly learned not all ginger beer makes the best Moscow mules. Good ginger beer can vary based on your personal preference, but in my opinion, great ginger beer is what makes or breaks a classic Moscow mule recipe. So let's talk about what the best ginger beer is to make a perfect Moscow mule.
This post contains affiliate links. Please see my privacy policy for more information.
What is a Moscow mule?
If you have never had a Moscow mule, you are definitely missing out! It is an easy cocktail with simple ingredients ordinarily served in copper mugs. They are very refreshing and the perfect choice on a hot day. While they can be altered with a variety of flavors, a classic Moscow mule is made with only three ingredients, non-alcoholic ginger beer, fresh lime juice, and vodka. I personally like Smirnoff vodka. If you are not a vodka fan you can also make a Kentucky mule which uses bourbon in place of vodka.
The notable copper mugs have made this a recognizable and very popular beverage in the United States.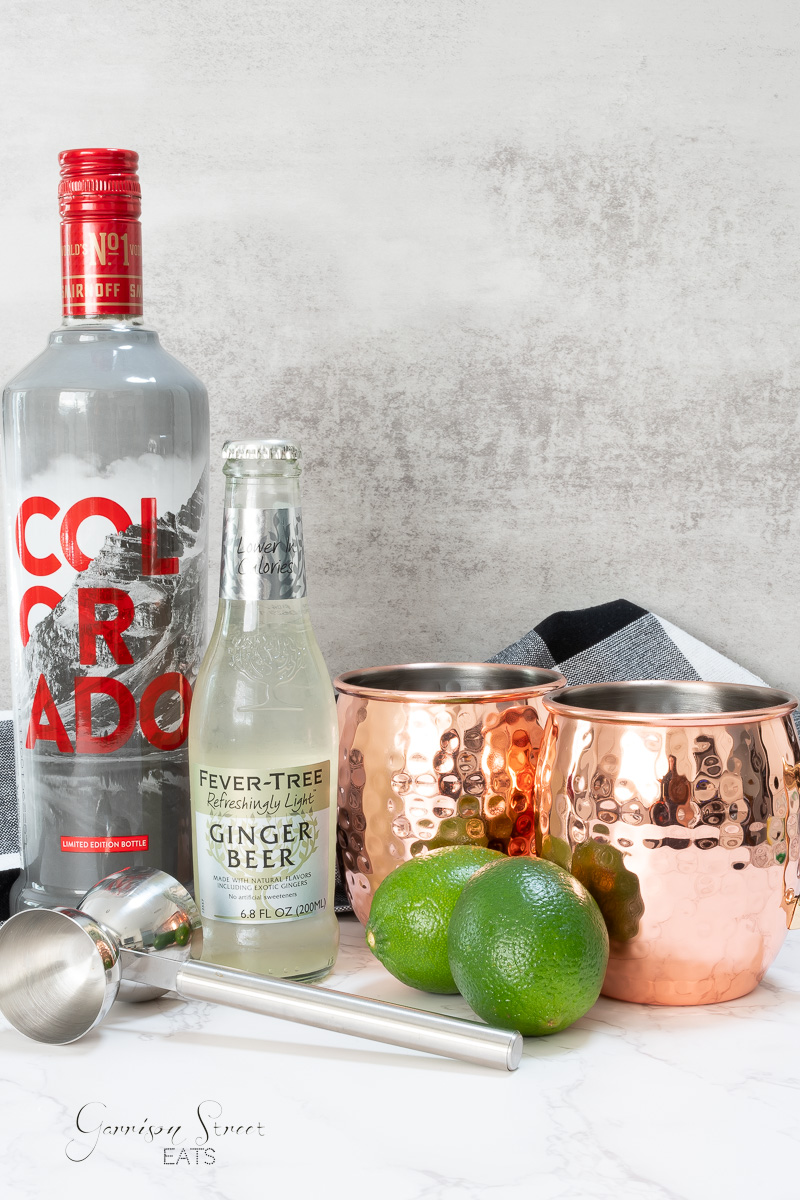 Why I love Moscow Mules
Easy – With only three ingredients, this simple mixed drink doesn't take a lot of fuss. Not to mention the fundamentals are easy to find and not expensive.
Refreshing – Some unique drinks are full of high-fructose corn syrup and make them difficult to drink more than one of. But this refreshing cocktail lets the spice of ginger shine through and brings out the natural flavors in the hint of lime.
Copper Mugs – I still remember the first time I saw a Moscow mule because of the unique and memorable copper mugs. It made me want one even when I had no idea what was in it. But the copper mugs aren't just for looks. The copper mug keeps the mule extra cold and allows you to enjoy a great Moscow mule down to the very last drop. It makes me think I should make all my cocktails in metal cups or mugs.
What is Ginger Beer?
Ginger beer originated in the UK in the 18th century but was first made with a fermentation process and was very alcoholic. Many Ginger beers on the market today are not brewed but carbonated like a soft drink and are non-alcoholic. This makes them a great addition as cocktail mixers or for mocktails. If I had to describe ginger beer I would say it tastes like carbonated water with a strong ginger flavor with a little spice. Ginger beer can be found in grocery stores and many liquor stores near club soda and other mixers.
What is Ginger Beer Made from?
Depending on the brand, ginger beer is usually made with a few ingredients. The recurring items are carbonated water, ginger root, citric acid, sugar cane or pure sugar cane, and real ginger. A few of the common brands also include spices like chili peppers and natural ingredients like lemon juice and orange juice.
Is Ginger Beer the same as Ginger Ale?
No, but they are similar. I would describe ginger ale as a sweeter flavor profile while ginger beer has a slightly spicy taste and less sugar. Depending on your taste buds, you could use ginger ale instead of ginger beer, but I prefer ginger beer for Moscow mules.
Isn't all ginger beer the same?
This is like asking aren't all red wines the same? Or asking aren't all beers the same? Which would be a giant NO, definitely not. Depending on the brand and ingredient ratios, they can taste drastically different. And because the bulk of a Moscow mule is made from ginger beer, the brand you choose can really change the flavor of your beverage. Some use more ginger, some use pure cane sugar, and some use more acid. All of these variables impact the overall flavor profile of the Moscow mule.
What are the best ginger beer brands for Moscow Mules?
To answer this question I thought it would be a good idea to do a back to back taste test of six popular brands. Right off the bat you will notice a major difference between them. Size. While the average price was about $5.95 for a 4 pack, the oz bottle varied substantially. I found the 6.8 oz size of Fever Tree ginger beer to be just the right amount for one Moscow mule.
Reed's Extra Ginger Beer – This ginger beer is noted to have an extra strong ginger taste. It came in a 12-ounce bottle and was $5.69 for a pack of four.
Reed's was definitely the strongest ginger flavor of them all and reminded me of Christmas for some reason. While this bubbly ginger beer is definitely a good option, it might be too much ginger for my pallet. This was Barry's favorite in the taste test.
Bundaberg Ginger Beer – I should note, I did buy the diet version to give it a try and because I couldn't find the regular. This was the only option I picked up that says it is brewed. It is made in Australia with fresh ginger grown on their farm. The bottle states you have to turn the bottle upside down before opening to enjoy the full flavor. If you hold it up to the light, you can actually see the ginger that has settled to the bottom. This option was $6.29 which was on the higher end of the price point.
Bundaberg had a very unique flavor in a great way. It was light and sweet but had very little of the spice that some of the other options had. Overall it wasn't bad but definitely had a unique flavor when compared to the others.
Fever Tree – This option might be my favorite ginger beer. It is the ginger beer I used the first time I made a Moscow mule and I really like the natural taste. It contains no artificial sweeteners and claims to use exotic types of ginger. This is an excellent choice if you only want to make one since the bottle size is spot on for one serving. This option was $4.99 for a four pack.
Fever Tree in my opinion is the best ginger brew for a Moscow mule. This makes a good mixer because the flavor is light and refreshing with no artificial taste and it has just enough kick from the ginger. It also has just the right amount of carbonation and sweetness.
Q Ginger Beer – This option is a bit deceiving. It appears to be the smallest serving, but it is actually 7.5 oz. Q drinks actually makes quite a few mixers including tonic water, club soda, bloody Mary mix, as well as tropical and hibiscus flavored ginger beer great for making other ginger beer cocktails. This option was the least expensive at $4.79 for a four pack.
Q had the most spicy flavor which makes sense since they list chili pepper as an ingredient. While I definitely don't mind this option, I prefer the Fever Tree.
Betty Buzz – This option comes in a 9 oz bottle which bothers me a bit. It's more than you need to make one Moscow mule but not enough for two. This option was the most expensive at $7.99 for a four pack.
I hate to say this, but Betty Buzz was my least favorite ginger beer. It has a very strong acidic taste which almost sours the ginger beer. Since fresh lime is front and center in a Moscow mule, this ginger beer just has too much acid. I could feel myself getting heart burn.
Cock n' Bull Ginger Beer – This ginger beer claims to have invented the Moscow Mule at their Hollywood California Restaurant. I tried the diet version of this one and should note it is the only one I found with zero calories. It was $5.99 for a pack of four.
Cock n' Bull was by far the sweetest option and for me that was not a good thing. It lacked that refreshing taste and felt too sugary. I should also note it listed the most ingredients that sounded like chemicals and un-natural ingredients.
There you have it! In my back to back taste test I definitely prefer Fever Tree over all the other ginger beer options. It had the most natural and refreshing taste in my opinion and was not overly sweet.
While you can use any one of these ginger beer options or other brands that I did not try, they each have their own unique flavor. The best flavor for you will depend on your specific tastes. And if you wanted to get really fancy you could even try making your own ginger beer. Although, I am not sure that is worth the effort when there are so many options readily available.
Ready to try making your own Moscow mule at home? I've got you covered with my simple and easy recipe!
Moscow Mule Recipe
This easy cocktail can be mixed in just a few minutes and you only need three ingredients! A great choice for an evening cocktail or a signature drink for a party or wedding.
Ingredients
1/2

mug

crushed ice

6-7

oz

ginger beer

2

oz

vodka

1/2

lime

juice

1-2

sprigs

fresh mint

for garnish
Instructions
Fill a copper mug half full of crushed ice

Pour 6-7 ounces of ginger beer over ice

Add 2 oz of vodka to ginger beer

Squeeze the juice of half a lime into copper mug and stir

Garnish with 1-2 sprigs of fresh mint
Notes
As noted in my taste test, I prefer Fever Tree ginger beer.
For an extra kick of flavor, you can muddle the mint and add some to the bottom of the copper mug. This will enhance the spicy flavor.
I do not recommend using a cocktail shaker to mix this drink since the ginger beer is carbonated and will likely explode on you.
You can use regular ginger beer or diet for a lower calorie option.
I ordinarily use plain vodka but you can definitely experiment with flavored options.
For a sweeter version you can add a splash of simple syrup
Large Batch Options
For a large batch cocktail, combine the above ingredients in equal ratios to the recipe above in a punch bowl or beverage dispenser. Only add ice to individual mugs not large batch. The ginger beer will loose it's carbonation just as soda does, so this should be made when ready to serve and ginger beer should be pre-chilled.
Mocktail
For a mocktail or virgin option omit the vodka.
Do you love trying new drinks? Check out the rest of my recipes here.
Did you love this recipe? Give it a five star rating and tag @garrison.street.eats on Instagram and hashtag it #garrisonsteats. Wanna save it and make it later? Hover over an image and save to Pinterest! And if you don't already follow me on Instagram, Pinterest, or Facebook, I would love for us to be friends!
Love new recipes? Subscribe so you never have to ask what's on the menu 😉
This post, Best Ginger Beer for Moscow Mules, appeared first on Garrison Street Eats.