Chocolate Martini Recipe with Godiva
Looking for the perfect dessert cocktail? Look no further. This Godiva chocolate martini recipe is a chocolate lovers dream! The best part is this decadent drink is easy to make and only calls for a few ingredients. Just add some plain vodka, Godiva liqueur, Irish cream and a handful of ice to a cocktail shaker and you are in business!
This post contains affiliate links. Please see my privacy policy for more information.
Before I married my hubby, every Thursday I met my besties for a girls night and we drank martinis. This quickly became known as martini Thursday and one of my all time favorites has always been this creamy dessert cocktail. I have played around with different flavors and versions of chocolate drinks but this sweet treat takes the cake. Or should I say chocolate?
Why I love this easy chocolate martini recipe
Quick: You can easily make this delicious dessert cocktail in 10 minutes or less.
Easy: With only a few ingredients, this delightful cocktail requires almost no preparation time.
Taste: Chocolate swirl, check. Dark chocolate liqueur, check. Delicious cocktail, check! Seriously, who doesn't love chocolatey goodness in a glass? I rest my case.
Fancy: I always feel fancy drinking out of martini glasses with sugar topping the rim of the glass. Which is why this is a great martini for special occasions like Valentine's day. Or you can be like me an make it a Thursday ritual 😉
Godiva Chocolate Martini Tips and Tricks
While this is a very easy martini to make at home, I have picked up a few tips and tricks along the way to make it even better!
Godiva Dark Chocolate Liqueur. If you have never had this before, it's exactly what it sounds like. Chocolate booze. It's rich in flavor and gives this martini that deep dark chocolate taste. If you don't have any on hand, you can modify the recipe and use chocolate vodka, chocolate moonshine, or simply add chocolate sauce to the martini shaker. But in my opinion, it's better if you have it.
Bailey's Irish Cream. This is a cream liqueur and it gives the martini the smooth texture like you used heavy cream. This is a key ingredient.
Vodka. As I mentioned above, you can use chocolate flavored vodka in lieu of Godiva or an ounce vanilla vodka for a less chocolatey taste. I used plain vodka here. If you sub this in for the Godiva, you will need to flavor it with chocolate flavor and use 2 oz instead of one.
Chilled Martini Glass. This is definitely not required and I don't always do it, but it will help keep the chocolate swirls from settling too quickly to the bottom of the glass. Ten minutes in the freezer should do the trick. Or you can fill the glass with a cup of ice and let it sit for 10 minutes. Either works just fine.
Rim the glass. I always rim my martini glasses with sugar and cocoa powder because not only does it feel fancy, it tastes delicious! I fill a small plate with about 1/4 cup sugar and a half teaspoon of cocoa powder. You can store any leftovers in an airtight container in the pantry.
Chocolate in the glass. This is technically optional, but I think it's the perfect addition both in taste and aesthetic. It does take some practice to make it look pretty, but I usually twirl the glass in one hand while I pour chocolate syrup with the other. Use as little or as much as you like 😉
Order of operations. Make sure you rim your glass before you swirl the inside of the martini glass. Otherwise all the chocolate syrup is going to end up in your rimming sugar.
Drink Responsibly. These are basically all alcohol so pace yourself and make sure you have a designated driver.
Toppings. I like to top mine with whipped cream, chocolate sprinkles, and sometimes a chocolate drizzle, chocolate pieces or chocolate shavings.
Martini Shaker & Jigger
Any home bartender should always have a martini shaker and a jigger to mix up specialty or classic cocktails. Better yet, you can get a set with everything you need to make all your favorite adult beverages at home. If you don't have a martini shaker, you could use a plastic or metal cup and a plate as the lid in a pinch. You can also use a shot glass instead of a jigger.
Chocolate Martini Recipe with Godiva
This decadent Godiva chocolate martini is one of my favorite drinks! It's creamy, rich, chocolatey and definitely boozy! The perfect dessert drink to satisfy your chocolate craving.
Ingredients
2

oz

Godiva Chocolate Liqueur

2

oz

Baileys Irish Cream

1

oz

Vodka

1

cup

Ice Cubes

1/4

cup

Sugar

for rimming

1/2

tsp

Cocoa Powder

for rimming

Chocolate Syrup

for swirl inside of the glass

Whipped Cream

for topping (optional)

Chocolate Sprinkles

for topping (optional)

Chocolate Bar

for shaving (optional)
Instructions
Chill a martini glass for 10 minutes in the freezer (optional).

Mix sugar and cocoa powder on a small plate or shallow bowl.

Add a small amount of water (about 1/2 inch) to a small bowl and dip the rim of the martini glass into the water.

Dip the dampened glass into the the sugar mixture and rotate until the rim of the glass is coated.

Coat the inside of the martini glass with chocolate syrup. I start at the bottom of the glass and rotate.

Combine the Godiva, Bailey's, Vodka, and ice in a martini shaker and shake.

Pour into glass and top with whipped cream and chocolate toppings to your liking.

Enjoy! Please drink responsibly.
Notes
If you don't have Godiva, you can use chocolate flavored vodka or add a tablespoon of chocolate syrup to the martini shaker. Use 3 ounces of vodka in total if you choose this method.
Make sure you rim your martini glass before you add the chocolate syrup.
To help keep the chocolate syrup from sinking to the bottom to quickly, chill the martini glass in the freezer for 10 minutes before making.
For a mocktail you can use hot chocolate or chocolate milk. You could even add ice cream and serve in the same fancied up glass for pure decadence if you don't drink or have an underage audience.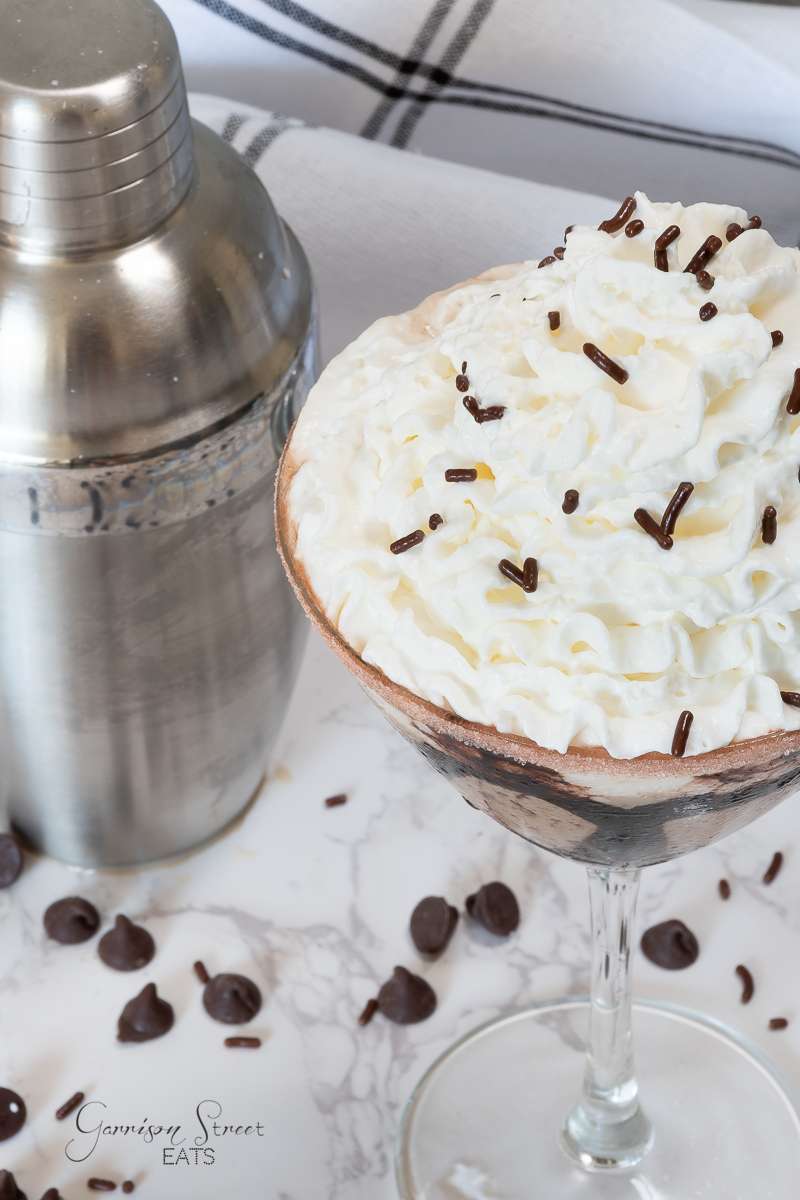 Did you love this recipe? Give it a five star rating and tag @garrison.street.eats on Instagram and hashtag it #garrisonsteats. Wanna save it and make it later? Hover over an image and save to Pinterest! And if you don't already follow me on Instagram, Pinterest, or Facebook, I would love for us to be friends!
Love new recipes? Subscribe so you never have to ask what's on the menu 😉
This recipe, Chocolate Martini Recipe with Godiva, appeared first on Garrison Street Eats.