Copycat Crumbl Sugar Cookie Recipe
Let's talk about cookies! If you have ever had the signature pink sugar cookie at Crumbl Cookies you have tasted a slice of heaven. This is hands down my favorite Crumbl Cookie! These decadent giant cookies are rich, buttery, and melt in your mouth. They are soft sugar cookies, rich with vanilla and butter and have just enough crumb. Everything a sugar cookie should be! The top of the cookies have the best sweet almond icing and of course, it's pink. If you are not willing to shell out $39 for a dozen cookies or you have a craving on a Sunday, you can make this copycat sugar cookie recipe at home! Full list of ingredients and full recipe card below 😉
This post contains affiliate links. Please see my full disclosure policy for more information.
What is a Crumbl Cookie?
In short, Crumbl cookies have a cult like following, but for good reason. They are delicious cookies! And with their weekly rotating cookie menu you can only get certain cookies at certain times. Not to mention the Crumbl bakery is closed on Sundays and they often sell out of their most popular cookies. So they definitely keep you coming back for more.
Two cousins opened the first Crumbl cookie shop in 2017 in Logan, Utah. Crumbl's first store started off making only the Crumbl Chocolate Chip Cookies and expanded their menu in 2018 allowing customers to taste new recipes each week and thus the rotating menu was born. Crumbl now has more than 600 locations in 47 states and their signature pink box is highly recognizable!
Why make 'em when they deliver?
Yes, that's right, they deliver. But spending all your dough (see what I did there ;)) on gourmet cookies isn't for everyone. And I will be honest, on more than one occasion I have walked up to a locked Crumbl location on a Sunday at which point I left unsatisfied and still wanting my buttery sugar cookie. Not to mention, my favorite sugar cookie is now on the rotating menu. So I decided to learn how to make them myself. I tried several different recipes and while they were in general great recipes, the texture of the cookie was off and the creamy frosting just didn't have enough almond extract.
I made many batches on my quest to get this copycat Crumbl sugar cookie recipe just right and I finally figured it out! And let me tell you, these taste just like the real thing!
Crumbl Cookie Recipe Basic Ingredients
Flour – There are several different types of flour when it comes to baking. When making pizza dough I use bread flour because it is higher in protein and helps give the dough structure. But when making cookies, I stick to all purpose flour. Bleached flour will result in a lighter colored cookie while unbleached flour will brown a little quicker. Bread flour can be used but will give you a denser cookie. Whole wheat flour will also result in a denser cookie and a nuttier taste. I recommend using all purpose flour so you don't alter the flavor.
Sugar – Sugar is one of the key components to all cookie recipes and establishes the ph of the cookie dough. Almost every cookie recipe I have seen calls for at least some white sugar or granulated sugar. The ratio of sugar to the other ingredients will determine the structure of your cookie. This is why I do not believe in substituting sugar with apple sauce. Sugar plays a much bigger role than just calories.
Powdered Sugar – Also known as confectioners sugar. This ingredient adds extra sweetness to the cookie and is the key ingredient to making the pink frosting. Powdered sugar and granulated sugar are not the same, so there are not substitutions on this one.
Butter – Butter is the primary fat content in the cookie but also contributes to the overall structure of the cookie and gives you that buttery cookies taste. Most cookie recipes and baking in general call for creaming the the butter and sugar in one of the first steps. This is important! If you melt the butter, the fat will not combine and coat the protein in the same manner. This will make your cookies fall flat and the frosting will separate. Your will need room temperature butter. It should be soft and should not be melted. Use only real unsalted butter for this recipe, no margarine.
Vanilla – When baking, you should always use pure vanilla extract. It adds an extra sweetness that combines with the other ingredients to create a complex flavor. I have used both pure vanilla and imitation vanilla and you can definitely tell the difference. If you can, I highly recommend using pure vanilla extract for the best results.
Almond Extract – This is one ingredient accounts for 80% of the flavor in these cookies in my opinion. Most households do not stock this in the pantry unless you bake often. BUT almond flavor has a very distinct taste and combined with the vanilla creates the signature flavor of this cookie. This ingredient is definitely required!
Eggs – This is your binder for all the wet ingredients and dry ingredients. Not only will it hold everything together, but it will also add moisture to your cookies due to the high water content in the egg whites.
Baking Powder – Do you really need this? YES! Baking powder is usually a very small ingredient but a very important ingredient! The baking powder reacts with the moistened batter and a chemical reaction takes place producing carbon dioxide. This puffs up the cookie and creates thicker, soft cookies.
Salt – A little bit of salt helps balance out all the sweetness from the sugars in cookie dough. A little bit goes a long way, and whatever you do, DO NOT measure it over your large mixing bowl! No one wants to throw away cookie dough!
Oil – I have used both vegetable oil and canola oil. Both work fine but I prefer the taste with canola oil. I do not recommend using olive oil because the flavor will overpower the cookie dough. I have not tried coconut oil in this recipe yet.
Cream of Tartar – This is a common ingredient in sugar cookies and a rather important one. It helps keep your sugar cookies chewy because it prevents the sugar from crystalizing. If you have ever had really crunchy sugar cookies, they likely did not contain cream of tartar. If you love soft and chewy cookies, this is a must have. A little goes a long way so I rarely have to buy it and it has a long shelf life.
Heavy Whipping Cream – Heavy cream is the key ingredient to making creamy frosting. It has a rich taste and in my opinion is the only option for icing. Although I have seen people substitute half and half and butter for whipping cream, but I am skeptical if it will achieve the same whipped texture. I do not recommend substituting this ingredient.
Food Coloring – Making the signature pink icing doesn't require pink food coloring, but rather just one drop of red food coloring. Trust me, ONLY one drop! You can also use gel food coloring but I find that more difficult to accurately measure.
Mixing – You can use a medium to large mixing bowl and mix with a handheld mixer or a stand mixer. You can also mix by hand with a large spoon, but I think it's easier to combine and evenly distribute the ingredients with an electric mixer. To whip your frosting you will need a mixer with beater or whisk attachments.
Tips for making the best Crumbl copycat recipe
Not only do the fate of your sugar cookies depend on the actual recipe and if you make substitutions, but it is also dependent on some additional factors.
Baking time. This is one of the most important but most frequently overlooked. While in a perfect world everyone would have the same oven and baking time would never vary, that is not reality. Not every oven is the same and everyone will likely experience different results because of this. I will always provide a suggested baking time, but as a good rule of thumb you should always be watching them closely. I prefer soft and chewy cookies and never want them to be over done. They can always cook for extra time but they cannot bake less.
The perfect cookie scoop. I might have OCD just a little, so making cookies the same size is important to me. Not to mention it makes the baking time more consistent. I always use a cookie scoop to make my cookies the same size. This also speeds up the time to get all my cookie dough balls onto a baking sheet. For these cookies I prefer a little smaller cookie since these are SO rich and I use one and a half scoops per cookie which yields 12 cookies. For the more classic inch thickness Crumbl cookies, use an ice cream scoop or large cookie scooper.
Cookie sheet mats or parchment paper. I always line my cookie sheets with a baking mat. This helps bake your cookies more evenly and keep your pans clean. My baking mats have circles outlined for cookies giving me perfect spacing every time. The best part is they are reusable. If you do not have a baking mat, you can use parchment paper instead.
Cooling. I am always very excited to take the first bite when my cookies come out of the oven. But like any frosted cookie, these need time to cool before you add the icing. Otherwise your frosting will melt. Allow cookies to cool on the pan for 15 minutes before moving them to a wire rack or cooling rack. Cookies should cool for at least 30 minutes before frosting.
Frosting. For these cookies I used a spatula to spread the icing like Crumbl does. But if you want a fancier cookie, use a piping bag. If you do not have a piping bag you can use a quart sized ziplock bag. Just fill the bag with the frosting, zip closed, and snip off a corner with scissors. The larger the corner you cut the bigger the hole for the frosting to come out.
Copycat Crumbl Sugar Cookie Recipe
Looking for a good copycat recipe for Crumbl sugar cookies? This easy recipe makes the best copycat Crumbl sugar cookies. With a rich and buttery vanilla cookie and sweet almond buttercream frosting I dare you to have just one! These taste just like the real thing and can be made in your own kitchen! All you need is a glass of milk.
Ingredients
Sugar Cookies
2

cup

flour

1

tsp

baking powder

1/4

tsp

salt

1/4

tsp

cream of tartar

10

tbsp

unsalted butter

room temperature

1/2

cup

granulated sugar

2 1/2

tbsp

powdered sugar

1/4

cup

canola oil

1

egg

1/2

tsp

pure vanilla extract

1/2

tsp

almond extract
Pink Icing
10

tbsp

unsalted butter

room temperature

1 3/4

cup

powdered sugar

4

tbsp

heavy whipping cream

2

tsp

pure vanilla extract

3/4

tsp

almond extract

1

drop

red food coloring
Instructions
Pre-heat oven to 350 degrees.

Combine flour, baking powder, salt, and cream of tartar in a medium bowl and whisk. Set aside.

In a separate large bowl with a hand mixer or stand mixer with a paddle attachment cream butter, sugar, powdered sugar until light and fluffy.

Add remaining wet ingredients, oil, egg, vanilla, and almond extract to wet ingredients and mix on low speed until combined.

Combine flour mixture with wet ingredients one cup at a time, mixing on medium speed until combined. Do not over mix.

Scrape down the sides of the bowl.

Scoop cookie dough onto a large baking sheet (lined or greased) with a cookie scoop. Flatten out the cookie dough balls with the palm of your hand.

For smaller cookies bake 6-8 minutes. For larger cookies bake 9-11 minutes. I baked mine for 7 minutes and made smaller cookies and felt they were just right. Cooking times will vary.

While the cookies bake, prepare your frosting.

Cream butter in a medium sized mixing bowl using a beater or whisk attachment. Cream until smooth.

Add in powdered sugar, heavy cream, vanilla and almond extract. Mix until smooth and fluffy.

Add only 1 drop of red food coloring and mix until color is fully distributed.

Cool cookies on baking sheet for 15 minutes before moving. Cool cookies at least 30 minutes before frosting.

Use a spatula or piping bag to apply frosting to cookies.

Pour your self a glass of milk and enjoy!

Store in an airtight container for up to 3 days.
Notes
Only mix the ingredients until they are combined. Do not over mix.
Cooking times will vary. You may need to put your cookies back in for a second time, cook them longer, or cook them less.
Crispier cookies will need longer bake times, but I recommend baking these as soft cookies.
Consuming raw cookie dough is not advised and can lead to food born illness.
I do not recommend freezing baked cookies. For a make a head option, make cookie dough in advance and freeze dough balls for up to 3 months. Icing should be made fresh.
When to make copycat Crumbl sugar cookies
I think the better question is when not to make these sugar cookies 😉
Valentine's Day – Just add some festive sprinkles or use a cookie cutter and make them heart shaped.
Christmas Party – The color of the icing can be modified to red or green or keep it white and add some holiday sprinkles.
Halloween Party – Just as easy as Christmas, this icing can be orange! Or try my dark chocolate frosting (coming soon!) with some orange sprinkles. The chocolate icing is Barry's favorite!
Baby Shower/Gender Reveal Party – These would be the cutest in pink and blue! Or make mini versions.
Engagement Party – The frosting could easily take on the bridal party colors or keep it white and add fancy sprinkles.
Birthday Party – Can you say rainbow sprinkles? Any color frosting works great here!
Just because you have a sweet tooth – If I am being honest, this is when I make them the most 🙂
No matter what occasion you decide to make these for, this sugar cookie will become a family favorite!
Crumbl in the news
In addition to having a die hard loyal customer following, Crumbl is suing their competitors Crave Cookies and Dirty Dough for trademark infringement. Claiming their logos, packaging, and cookies are too similar. While I have never had one of the competitors cookies, I never knew cookies could be too similar, but I guess that's for a judge to decide?
Love decadent sweets as much as I do? Check out these recipes.
Chocolate Chip Cookies
Muddy Buddies
Chocolate Martinis
Want more copycat recipes? Give these a try.
Copycat Starbucks Frappuccino
Copycat Texas Roadhouse Butter
Did you love this recipe? Give it a five star rating and Tag @garrisonstreeteats on Instagram and hashtag it #garrisonsteats. Wanna save it and make it later? Hover over an image and save to Pinterest! And if you don't already follow me on social media ( Instagram, Pinterest, TikTok or Facebook ) I would love for us to be friends!
Love new recipes? Subscribe so you never have to ask what's on the menu. Delicious recipes delivered straight to your inbox 😉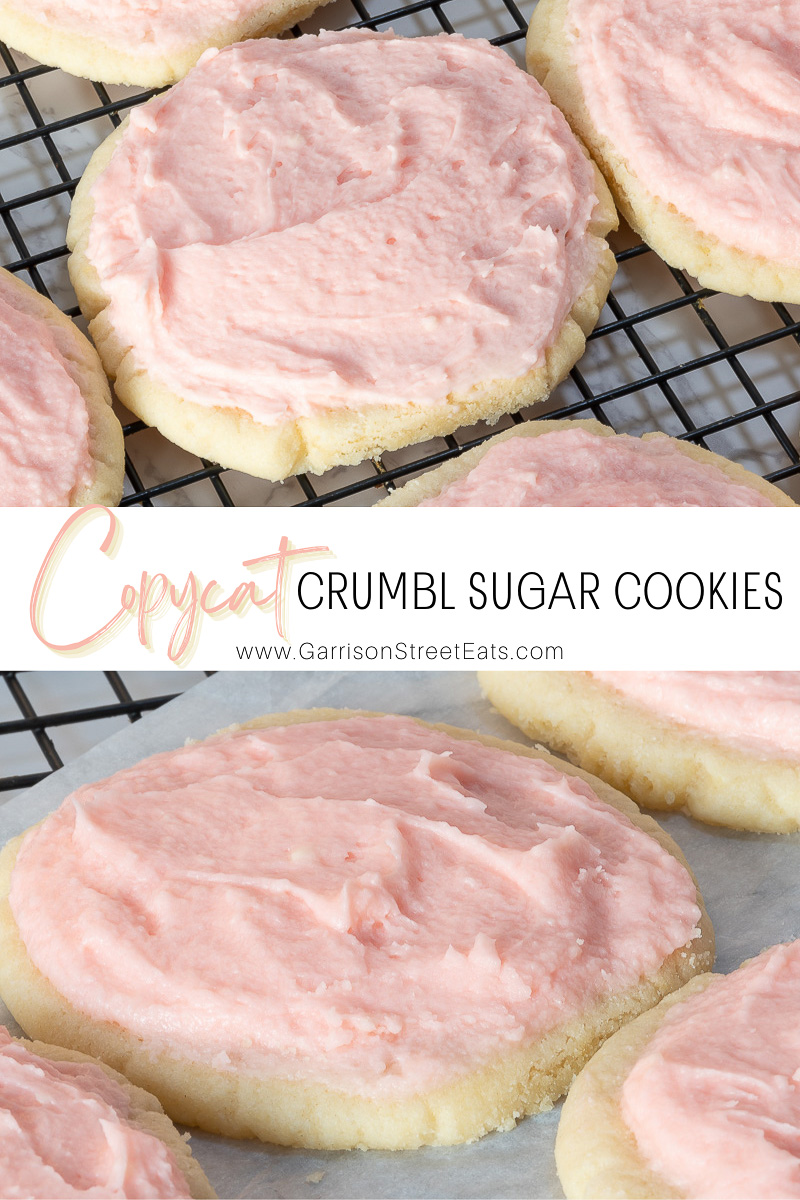 This post, Copycat Crumbl Sugar Cookies Recipe, appeared first on Garrison Street Eats.