Copycat Texas Roadhouse Butter Recipe
Thanksgiving is right around the corner and one of my favorite items to make is my copycat Texas Roadhouse butter recipe! If you have ever been to Texas Roadhouse you are familiar with that sweet cinnamon butter they bring out with their iconic warm rolls! Can you say delicious? It doesn't get much better than complimentary bread and butter. The good news is, compound butter like theirs is incredibly easy to make with only four simple ingredients, unsalted butter, powdered sugar, honey, and cinnamon! This sweet butter is an easy recipe anyone can make.
This post contains affiliate links. Please see my privacy policy for more information.
What is compound butter?
Compound butter is usually a mixture of unsalted butter with variety of spices, herbs, and other ingredients that enhance the main dish it is being used in. Compound butter is very common in holiday recipes as well as a topping on cooked meats, fish, and vegetables.
Best Copycat Recipe Basic Ingredients
While the ingredients are simple in this homemade honey butter recipe, I do have a few notes for you.
Real Butter – You will need to use room temperature butter. No margarine. It has to be the real deal, unsalted butter. It will not taste the same nor will the consistency be the same since margarine is made from vegetable oil and actual butter is made from churned milk or heavy whipping cream.
Powdered Sugar – Again, no substitutes here. Sugar and powdered sugar, or confectioners sugar are not the same. While powdered sugar is pulverized granulated sugar, it also often contains cornstarch. Not mention granulated sugar is larger in size and the measurements will not be the same. The larger crystals will also not dissolve in the same manner, creating a grainy and gritty texture. You will need powdered sugar to achieve the correct consistency.
Honey – I normally buy honey in bulk at Costco and get raw honey. This type of honey is more potent and has a bit sweeter of a taste. If you are not using raw honey you may need to use a little more to arrive at the same taste.
***Pro Tip – Next time, when measuring honey spray your measuring spoon with cooking spray first. The honey will slide right off.
Cinnamon – Some people do not care for cinnamon, but this is a critical ingredient in this Texas Roadhouse cinnamon honey butter. It is a very powerful spice and should never be measured over your dish. When adding more, do so in increments of 1/8 tsp. the most important thing to remember is you can always add more but you cannot take it away.
Mixing – I always mix my butter in a mixing bowl with an electric mixer for a smoother consistency. If you have a stand mixer you can use that with the whisk attachment or a paddle attachment, but I find a hand mixer to be sufficient. I do not recommend using a dough hook because I do not think it will mix well.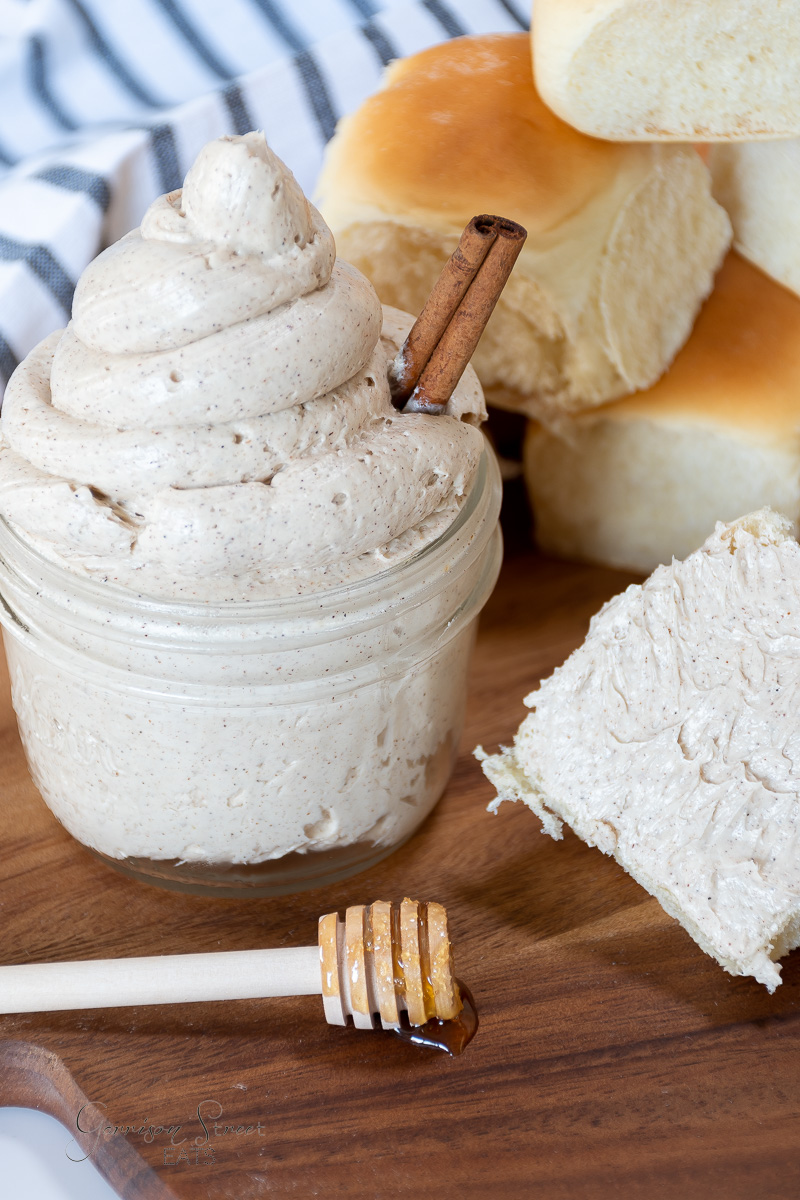 Copycat Texas Roadhouse Butter Recipe
Texas Roadhouse's long-standing tradition of beloved honey-cinnamon butter can now be enjoyed at home! This easy recipe only contains four ingredients and you can make it from the comfort of your own kitchen!
Ingredients
1

cup

unsalted butter

or 2 sticks

1/2

cup

powdered sugar

aka confectioners sugar

6

tbsp

honey

or 1/4 cup + 2 tablespoons

1

tsp

cinnamon
Instructions
Combine butter, powdered sugar, honey and cinnamon in a large bowl (small bowl if halving the batch)

With a hand mixer or a stand mixer mix ingredients until smooth.

Store in an airtight container or glass jar in the fridge.
Notes
This recipe makes about a cup of butter.
In the event you have leftover Texas Roadhouse honey butter, you can store it in the fridge in an airtight container for up to a month
If you make too much butter, you can freeze for up to three months.
For large gatherings make a double batch.
What to serve it with
I think the better question is what not to serve it with because the real challenge is making enough to have leftovers.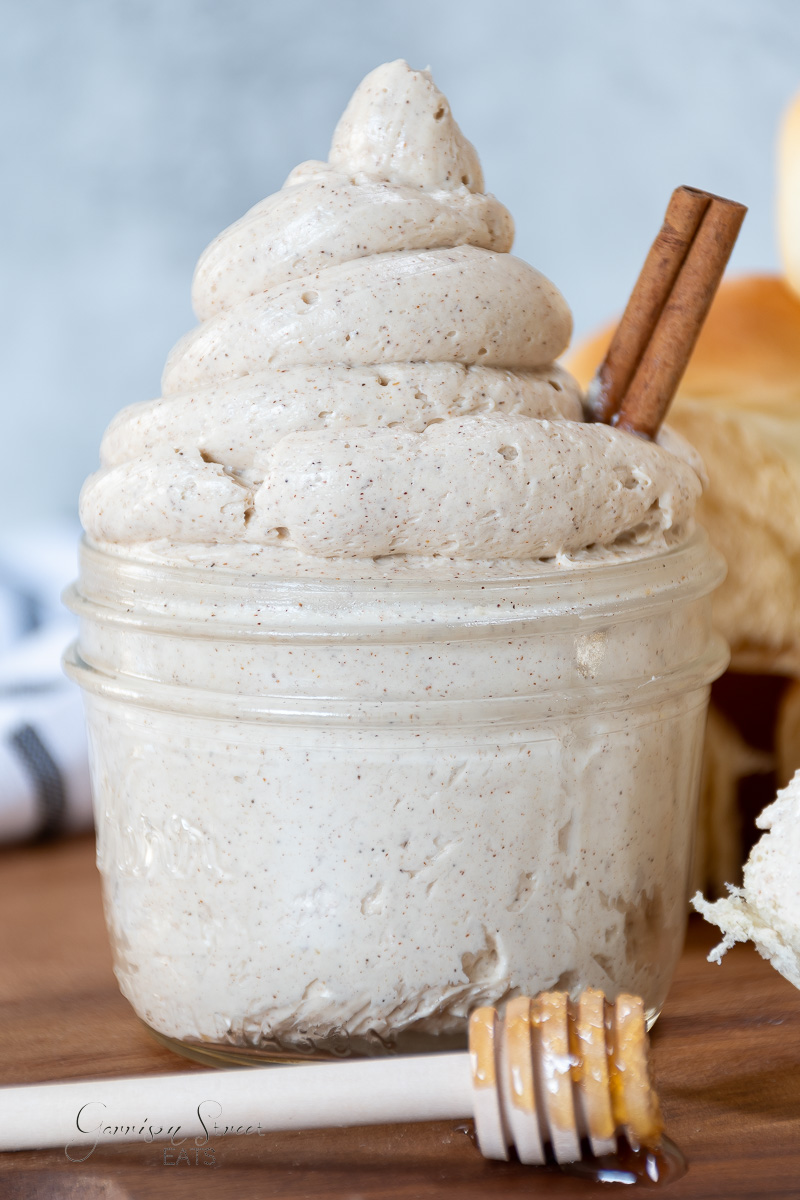 Fresh Rolls – The first choice is obvious, warm dinner rolls. You can make your own homemade version of those famous Texas Roadhouse rolls or you can choose the easy but just as delicious option, Hawaiian rolls! These are my go to when homemade rolls are not an option. They are my favorite things to serve with this delicious honey butter and the best part is they can double as little turkey sandwiches after Thanksgiving!
French Toast – One of my favorite parts about breakfast is French toast. And while I know it is very common to top French toast with maple syrup, one of my favorite ways to eat it is with this cinnamon honey butter recipe and powdered sugar. Next level brunch right here!
Sweet Potatoes – I love sweet potatoes and this delicious cinnamon honey butter is the perfect addition! Whether you bake them or roast them this copycat version is the best option for topping!
Grilled Cheese – Stick with me here. I know this one sounds odd, but I promise you it is delicious! I love making grilled cheese with sharp white cheddar and the sweet cinnamon flavor of this whipped butter makes a great thing even better! And if you are making it after Thanksgiving, add some leftover cranberry sauce and smoked turkey and your Thanksgiving leftovers just became the best thing!
Other Options – You can also use this infused honey-cinnamon butter on cinnamon rolls, banana bread, and fresh bread. No matter what you choose, you don't have wait for free bread or live a close distance of a Texas Roadhouse location to enjoy this fan favorite Texas roadhouse recipe!
Storage
In the event you have leftover Texas Roadhouse honey butter, you can store it in the fridge in an airtight container for up to a month. These glass jars are just the right size! For best results, I do not recommend storing at room temperature since honey is quite acidic and can sour the butter. Simply remove the butter from the fridge at least 30 minutes prior to serving. You can also make ahead and freeze for up to 3 months.
Did you love this recipe? Give it a five star rating and Tag @garrisonstreeteats on Instagram and hashtag it #garrisonsteats. Wanna save it and make it later? Hover over an image and save to Pinterest! And if you don't already follow me on social media (Instagram, Pinterest, or Facebook), I would love for us to be friends!
Love new recipes? Subscribe so you never have to ask what's on the menu. Delicious recipes delivered straight to your inbox 😉
This post, Copycat Texas Roadhouse Butter Recipe, appeared first on Garrison Street Eats.