How Long Does Pizza Dough Last in the Fridge
Homemade pizza dough is a staple at my house since we eat pizza at least once a week. Naturally, I am often asked how long does pizza dough last in the fridge? The correct answer to that depends on how much yeast was used and how you let your dough rise. But for best results, I do not use fresh dough past 3 days in the fridge or 3 months in the freezer.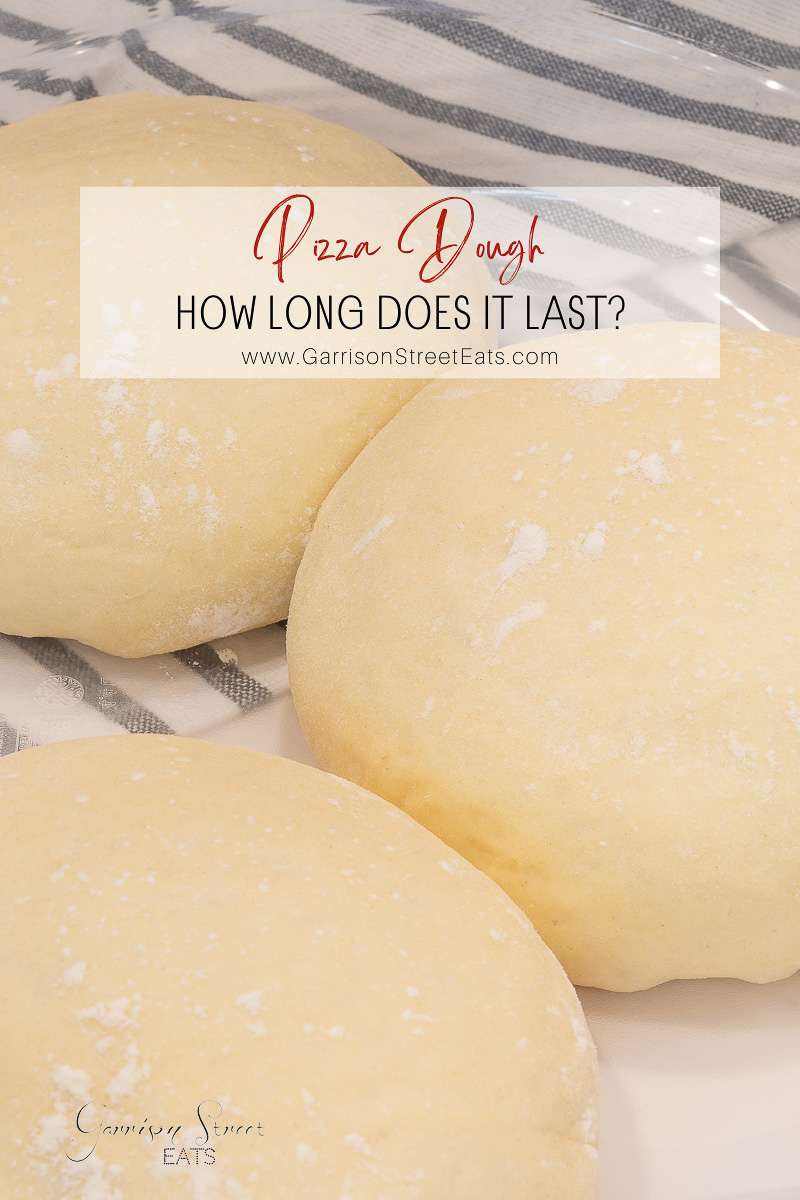 This post contains affiliate links. Please see my privacy policy for more information.
How Long Does Pizza Dough Last in the Fridge
About five years ago we completely changed our lives and how we would eat pizza forever by investing in a backyard pizza oven. We quickly learned that store-bought pizza dough was not the answer for a high heat pizza oven and a simple dough with basic ingredients was the way to go. Now, I don't even like take out pizza!
Working With Yeast
I'll be honest, I was terrified to use yeast in the beginning. Why? It sounded hard, but I promise you it isn't! Making your own pizza is not only fun but it tastes so much better!
Can you make fresh pizza dough without yeast?
Technically, yes. I use a yeast free dough when making St. Louis style pizza crust but that is a thin almost cracker type crust. To achieve the fuller, spongey texture of most pizzas, you will need to use yeast. When yeast is combined with the other ingredients in the dough and begins the fermentation process, it will begin to rise and expand. This is a result of air bubbles and pockets created from the carbon dioxide produced during fermentation.
Does pizza dough go bad?
Yes! Homemade dough has a limited shelf life. Yeast is a microorganism that is a member of the fungi kingdom. This means if it ferments too long or if it sits at room temperature too long, it may begin to grow harmful bacteria. When making my homemade dough, I let it rise for no more than 8 hours outside of the refrigerator. Doughs with less yeast can last up to 3-5 days in the refrigerator if stored properly.
Factors that affect how long pizza dough lasts
Amount of yeast. The more yeast you use the faster the dough rises and ferments. If your pizza dough recipe uses a lot of yeast, you will need to use it sooner or freeze it. I normally use my dough right away. I will make it in the afternoon and let it rise in a proofing box at room temperature until dinner. If you want to make your dough ahead of time to use the next day, let it rise for a few hours in a large bowl covered in plastic wrap or with a cutting board on top. Then divide it into individual balls and store in the fridge in an airtight container or proofing box overnight.
Flour. Believe it or not, there are different types of flour. The main types of flour are all purpose flour, bread flour, and 00 flour. When it comes to making pizza, many people use 00 flour but it is difficult to find in the grocery store and more expensive than traditional flour. Instead, I like to use bread flour. It is similar to 00 flour in that it has a higher protein content which means more gluten can develop helping to provide more structure for your pizza dough. When using a higher protein flour with more yeast, your dough will only last a couple of days in the fridge.
Temperature. When mixing the yeast and water, the temperature of water will impact the fermentation process. Lower temperature water will slow the yeast fermentation. You can also rise your dough with a cold fermentation process in the fridge which will leads to a slower rate of fermentation. If you have the time, rising your dough for 24 hours in the fridge makes a great pizza dough!
Dairy products. Use dairy products with caution when making homemade doughs. While ingredients like butter can strengthen gluten development, milk can harm the yeast doughs if used incorrectly. When used correctly, milk-based ingredients can add to the standard dough. Just make sure you understand how each component will effect the yeast. Sometimes good intentions can lead to killing your yeast or drastically altering the used recipe.
What's the best way to freeze pizza dough?
You can use a zip-lock freezer bag or use a food sealer machine. I usually make enough dough for six 10 inch pizzas (double the recipe below). I bake three of the pizzas the same day and transfer the leftover pizza dough into a freezer bag. I prefer to put the extra dough into separate bags because they are easier to thaw out and use for the next pizza night. When you want to make pizza next time, thaw the dough in the fridge and put it on the counter an hour before making. Frozen dough keeps for about three months but don't forget to date the bag in case you forget when you made it last.
How do I know if my dough is bad?
Like most food, pizza dough usually has obvious signs of bad pizza dough. If it has been frozen for a long time and has signs of freezer burns or visible freezer crystals, it has likely reached it's expiration date.
You should also be cautious of a foul sour smell, like a beer odor. If it smells like a frat house, it's a good idea to toss it.
Any signs of discoloration like a beige color, grey color, or if the texture is no longer smooth and the surface of the dough resembles an orange peel, you shouldn't risk it. The last thing you want is to end up sick over bad dough.
Also, if your dough has any signs of mold growth or fuzzy spots, the right way is to start over and make fresh dough.
Extreme temperatures can also affect your dough. So don't leave it sitting in the sun on a hot day if you are making pizzas on your patio.
Basic Pizza Oven Pizza Dough Recipe
This basic pizza dough recipe is easy to make and a great way to get started making homemade pizza in your outdoor pizza oven at high temperatures. Leftover dough can be frozen for up to 3 months.
Ingredients
2

tsp

active dry yeast

1 1/4

cup

warm water

3 1/3

cup

Bread or 00 Flour

1

tsp

salt

1

tbsp

unsalted butter

1

tbsp

olive oil

to coat dough during rise
Instructions
Combine the active yeast with the water and let set for a few minutes. The water should look foamy.

In a stand mixer with a dough hook, begin mixing in the bread flour one cup at a time. You can also kneed your dough manually or use a hand mixer with a dough hooks.

Once the flour is combined, add the salt and melted butter. Do NOT add salt, butter, or olive oil until the dough is completely combined and kneaded.

Mix/Kneed on a low speed for 3 minutes. Do not mix for an extended period of time to avoid tough or weak dough.

The dough should be stretchy and bounce back when poked with a wooden spoon.

Rise dough in a covered bowl until it doubles in size (an hour or two on the counter).

Divide dough into equal sized pizza dough balls and transfer them to a proofing box or large air-tight container. This recipe will make three dough balls.

When ready to bake, roll out each dough ball into flat circles on a floured work surface. You can use a rolling pin but I prefer to stretch mine out by hand. I slowly stretch each ball pressing it outward in a circular motion with my fingers and knuckles. Be careful not to rip the dough.

Top the pizza dough with toppings of your choice. Do not let the dough sit for too long with toppings prior to baking or it may get soggy.

Bake for 90 seconds in your pizza oven at 900 degrees. Bake within 8 hours, refrigerate (up to 3 days) , or freeze (up to 3 months).

Enjoy your homemade pizza!
Notes
Big batches of pizza dough can be made ahead of time and stored in the fridge in an air tight container for up to 3 days. Dough can be frozen for up to 3 months.
The amount of dough needed will depend on how big of pizzas you are making. I usually double this recipe to make a big batch of dough and feed us extra days. If you make too much dough you can freeze it.
Raw dough or anything made with yeast is bad for dogs. So make sure you don't drop any if you have a pup nearby 😉
Mixing Kneading Options
If you do not have a stand mixer, you can use a handheld mixer with dough hooks or you can knead by hand. I find hand kneading very tiring so I always use my stand mixer. Bonus, if you have a stand mixer you can also use this attachment to shred your cheese! Shredding real cheese when using your high heat pizza oven will give you better results since the melting point of bagged cheese is different.
Can I make this pizza dough in my normal oven?
While you can make this pizza in an ordinary oven, I have another recipe I prefer to make in my cast iron skillet when using my indoor oven. You can also try St. Louis Style and Detroit Style (coming soon!). Since the pizza oven cooks at higher temperatures this dough works best in the pizza oven.
Pizza Oven Options
If you haven't taken the plunge and bought a backyard pizza oven yet all I can say is DO IT! We absolutely love having a pizza oven and use it every week! We have had a Roccbox for about 5 years now and we love it! I even made it a special tabletop 🙂 But they recently came out with this larger version and we are definitely considering an upgrade. To be continued….. If you are looking at a lower price point, I have also heard great things about this oven.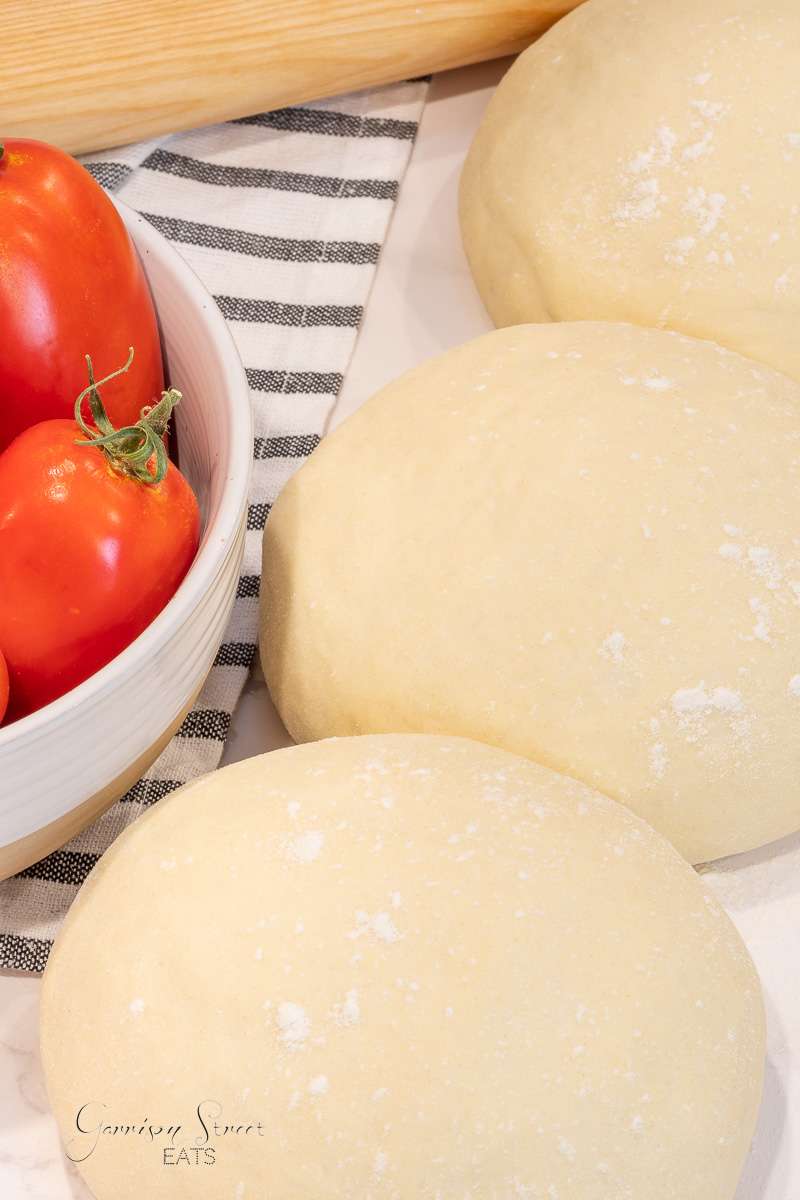 My favorite toppings for pizza
Buffalo Chicken
Pineapple
BBQ Chicken
Pepperoni
Jalapeno
Onion
Mushrooms
Pizza Base Ideas
Red Sauce
BBQ Sauce
Buffalo Sauce
White Sauce
Olive Oil and Garlic
When it comes to pizza styles and toppings, the sky is the limit! I like to experiment but others are pizza purists and always stick to a Neapolitan pizza dough. Whatever you fancy, there is a pizza for everyone!
Did you love this recipe? Give it a five star rating and tag @garrison.street.eats on Instagram and hashtag it #garrison.st.eats. Wanna save it and make it later? Hover over an image and save to Pinterest! And if you don't already follow me on Instagram, Pinterest, or Facebook, I would love for us to be friends!
Love new recipes? Subscribe so you never have to ask what's on the menu 😉
This recipe, How Long Does Pizza Dough Last in the Fridge, appeared first on Garrison Street Eats.