Homemade Pizza Sauce Recipe with Tomato Paste
Have you ever made a homemade pizza sauce recipe with tomato paste? Homemade pizza is definitely a household staple for my family and I make my own pizza sauce almost every week. This easy pizza sauce recipe only contains a few ingredients and can be made in five minutes. It's perfect for busy people but gives you a homemade taste without all the sodium in store bought pizza sauce. This no cook pizza sauce has the best flavor and requires no fancy gadgets like a food processor
This post contains affiliate links. Please see my privacy policy for more information.
Why make your own pizza sauce?
This is a fair question when there are so many options available at the grocery store. For me it's simple. I can control the amount of sodium. Store-bought pizza sauce contains insane amounts of sodium and definitely don't fit into heart healthy standards. Don't believe me? Read the labels next time you are shopping.
Making your own sauce takes too long
This is also a common complaint. But I am here to tell you this easy homemade pizza sauce recipe only takes 5 minutes to make with pantry staples. Now it is not a "from scratch recipe" using fresh tomatoes or whole tomatoes, but rather a tomato-based sauce using salt free canned tomato paste, tomato sauce, and spices.
Why I love this recipe
Quick – This easy recipe only takes a few minutes to make and has a rich tomato flavor. I use tomato paste and unsalted canned tomato sauce as my base which most people can easily find at the grocery store or may even have in the pantry. As fast as you can open a few cans and add some seasoning, you can have instant pizza sauce.
Easy – This is the best pizza sauce recipe for those who are intimidated by from scratch recipes that call for dicing pounds of tomatoes and creating a tomato puree. It doesn't have to be difficult to be a delicious sauce. I usually keep several cans of tomato sauce and tomato paste on hand specifically for this recipe.
Delicious – Sometimes less is more. This simple recipe includes the basics and that is all you need for a tasty and flavorful sauce.
Pizza Sauce vs Marinara Sauce vs Spaghetti Sauce
Generally speaking, pizza sauce, marinara, and spaghetti sauce tend to use very similar ingredients and depending who you ask can sometimes be interchangeable. Usually pizza sauce has a thinner consistency or higher water content than marinara. But I prefer my pizza sauce to be a bit thicker, making it more like marinara. Spaghetti sauce on the other hand tends to have other fresh ingredients in it like red peppers, green peppers, onions, and ground beef. The one thing they all definitely have in common is they pair well with garlic bread 😉
Simply good pizza sauce recipe ingredients
Tomato Sauce – I always use canned tomato sauce because it is easy and makes a smoother sauce. You could also make your own tomato sauce with fresh tomatoes and a immersion blender if you have time. Canned tomatoes are also an option if you want a thick sauce.
Tomato Paste – Again, I always used canned tomato paste with no salt added. This will give your pizza sauce a thicker consistency and keep it from being too runny.
Sugar – I know this one might sound strange, but just trust me on this one. It gives the sauce just enough sweetness and pairs very well with the other ingredients. If you are really uncertain, start with a pinch of sugar and work your way up. I make mine at room temperature and taste as I go.
Basil – Dried basil or fresh basil can be used. I usually use dried basil but I do throw in some fresh when I have it growing in my garden.
Oregano – This very aromatic spice pairs very well with the basil and adds a very earthy flavor to the sauce. While I usually use dried oregano, you can also use fresh.
Salt – As I mentioned above, I like to be in control of the salt content in my sauce but that doesn't mean I don't use it. Food needs salt, period. But it doesn't need so much that it's all you taste. Table salt or kosher salt work just fine.
Pepper – Black pepper and salt just go together. I only use a little but that is all you need.
Other Seasonings – I usually do not use any additional seasonings. I know a lot of sauce recipes use onion powder, garlic, garlic salt, and even parmesan cheese, but I really think less is more here. I have added garlic before but I prefer it without.
Best Homemade Pizza Sauce Recipe with Tomato Paste
This easy homemade sauce uses simple ingredients and can be made in a matter of minutes while giving you the depth of flavor of a sauce that took hours to make. The perfect red sauce for any pizza all in a simple recipe.
Ingredients
8

oz

plain tomato sauce with no salt added

2

tbsp

plain tomato paste with no salt added

1

tbsp

white sugar

1 1/2

tsp

basil

dried or fresh

1 1/2

tsp

oregano

dried or fresh

salt

to taste

pepper

to taste

garlic powder

optional to taste
Instructions
In a small to medium sized bowl, whisk together tomato sauce and tomato paste.

Add sugar, basil, and oregano and whisk again until combined.

Add salt and pepper to taste and whisk again until combined.

If desired, add garlic powder to taste and whisk again until combined.

Spoon sauce onto the top of the pizza dough in a thin layer, using the back of a spoon to spread it evenly on the pizza crust.
Notes
You can use fresh herbs if you have them on hand but dried herbs from your spice cabinet is what I usually use. Italian seasoning would work too in a pinch.
I do not usually use garlic in my sauce but it definitely won't hurt it. Just don't add too much or it will overpower the sauce. Using fresh garlic cloves is ok too.
You do not need to cook the pizza sauce. It will cook on the pizza.
If you like a spicier sauce, feel free to add red pepper flakes to taste.
If you prefer a thicker sauce add another tablespoon of tomato paste.
If you prefer a thinner sauce add less tomato paste.
Makes about a cup of sauce.
For best results I do not recommend freezing.
Storage
This is just enough sauce for three of my 10 inch pizzas or two St. Louis style pizzas. Should you have leftover sauce or if you do not like too much sauce, store for up to a week in a glass jar or an airtight container in the refrigerator. If the extra pizza sauce shows any signs of mold, it's time to toss it and make a fresh batch.
I have never tried to freeze this sauce before so do so at your own risk. If you try it, I would definitely use a freezer-safe container.
Other Uses
This sauce makes a great dipping sauce for appetizers like mozzarella sticks or pizza rolls. It can also be used as a pasta sauce in larger quantities and heated over medium heat. You can even add meat, peppers, and onion for a true spaghetti sauce.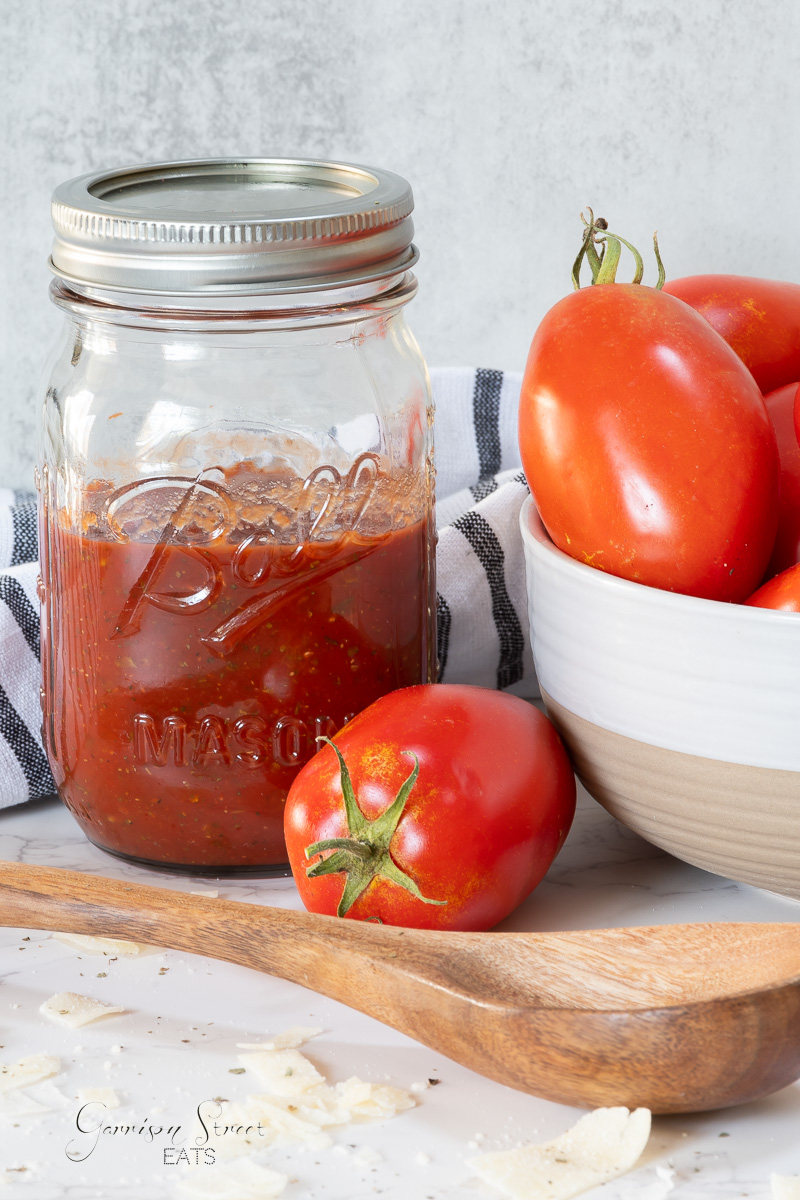 Are you ready to make Friday night homemade pizza night? Check out my homemade pizza dough and my favorite pizza!
Did you love this recipe? Give it a five star rating and Tag @garrisonstreeteats on Instagram and hashtag it #garrisonsteats. Wanna save it and make it later? Hover over an image and save to Pinterest! And if you don't already follow me on Instagram, Pinterest, or Facebook, I would love for us to be friends!
Love new recipes? Subscribe so you never have to ask what's on the menu 😉
This post, Homemade Pizza Sauce recipe with Tomato Paste, appeared first on Garrison Street Eats.