Cast Iron Skillet Sweet Cornbread Recipe
Every fall I love to make this sweet cornbread recipe. It is my favorite cornbread recipe and pairs great with everything from chili to your Thanksgiving feast. Because I make it in my cast-iron skillet, it has crispy edges and a moist crumb for a perfect cornbread. The best part is, you only need a few simple ingredients and two boxes of Jiffy! No buttermilk required! Literally anyone can make this easy skillet cornbread. Full recipe below 😉
This post contains affiliate links. Please see my privacy policy for more information.
What is cornbread?
Cornbread is usually considered a Southern dish and has a sweet cake-like texture, but in reality it is a quick bread. It is believed that cornbread originated with Native Americans prior to the first settlers arriving in United States. Cornbread is traditionally made with a cornmeal mixture and some combination of all purpose flour, sugar or brown sugar, and baking soda or baking powder.
Best Cornbread Recipe Ingredients
While the ingredients are simple in this semi homemade skillet cornbread recipe, I do have a few notes for you.
Jiffy Corn Muffin Mix – Why reinvent the wheel when you don't have to? Not only is this a great method if it's your first time making cornbread, but it makes this recipe quick and easy for busy people. This cornbread mix has all the dry ingredients you need already in the package. So if you are like most people and don't keep yellow cornmeal or white cornmeal on hand, no need to buy ingredients you won't use often. The only thing you need to do is open the package and add the below wet ingredients.
Melted Butter – This adds a rich buttery flavor to the cornbread. It is best to use real, unsalted butter. You can use margarine, but it will not taste the same since margarine is made from vegetable oil and actual butter is made from churned milk or heavy whipping cream. I melt mine in the microwave.
*** Pro tip – cut each tablespoon of butter into quarters and microwave in increments of 10 seconds. The butter will melt faster when its smaller and anything longer than 10seconds and you will be cleaning the inside of your microwave instead of making cornbread.
Honey – There is truly noting better than a drizzle of honey on cornbread! I normally buy honey in bulk at Costco and get raw honey. This type of honey is more potent and has a bit sweeter of a taste. If you are not using raw honey you may need to use a little more to arrive at the same taste. You can also try adding maple syrup if you do not have honey.
*** Pro Tip – Next time, when measuring honey spray your measuring spoon with cooking spray first. The honey will slide right off.
Milk – Aside from popular belief, milk does more in baking than you might think. While it is essential for moistening and combining dry ingredients, it also activates gluten, moistens protein and dissolves sugars. I prefer to use 2% milk when cooking and baking because it provides more moisture due to the fat content. While you can use skim milk, it may not come out as moist and may lose a little bit of structure. You can also use whole milk for a super moist cornbread.
Sour Cream – This simple ingredient will also add extra moisture for amazing cornbread with a tender crumb. I always have sour cream on hand for cooking, baking, and whipping up quick sauces and drizzles.
Mixing – I usually mix my cornbread batter with a large whisk. You can also use a handheld mixer in your mixing bowl for a smoother consistency, just make sure you only mix until your ingredients are combined. If you have a stand mixer you can use that as well with the whisk or a paddle attachment, but again, be careful not to overmix.
Cast Iron Pan – Every home cook should have at least one cast iron pan! They are incredibly versatile and literally last forever. I have three. A 12 inch, a 10 inch and a mini for skillet cookies! For this recipe I used the 10 inch. If you don't have a cast iron you can also use a baking dish, cake pan, or a muffin pan for cornbread muffins like these. When baking with a cast iron, I highly recommend one of these to avoid burning yourself on the hot skillet handle.
Sweet Cast Iron Skillet Cornbread Recipe
Sweet skillet cornbread in a Jiffy! I am taking this affordable pantry staple and turning it into a family favorite. Just a few tablespoons of butter, honey and sour cream takes this boxed mix to a whole new level. Your guests will think you made it from scratch!
Ingredients
2

boxes

Jiffy corn muffin mix

2

eggs

2/3

cup

milk

4

tbsp

unsalted butter

melted

2

tbsp

honey

2

tbsp

sour cream
Instructions
Combine Jiffy Corn Muffin mix, milk, eggs, melted butter, honey and sour cream with a whisk, hand mixer or stand mixer. Mix only until combined. Do not over mix.

Grease a 10 inch cast iron skillet well including the sides.

Pour batter into cast iron skillet and use a spatula to spread and level it out to the edges.

Bake for 12-17 minutes or until golden brown.

Store at room temperature in an airtight container for up to 1 week.
Notes
This recipe makes 6-10 slices of cornbread.
Cooking time will vary. Make sure you set a timer for the low end of cook time and check on it. Cornbread is done when the middle doesn't jiggle and a toothpick comes out clean.
In the event you have leftover cast iron skillet Jiffy cornbread, store in an air tight container for up to 1 week.
I do not recommend freezing, but this is a quick recipe and can be made a day or two ahead of time.
For large gatherings make a double batch.
What to serve cornbread with
I think the better questions is what not to serve it with because the real challenge is making enough to have leftovers. Favorite recipes go fast! I made this recipe in muffin form for a Halloween party recently and these were the first to go and I was not the only person who made cornbread….just saying 😉
Texas Roadhouse Butter – Ok, not to brag but the two of these together is like heaven on earth! I like to spread a little butter on top of my slice and microwave it for 15 seconds. The honey butter melts into the cornbread and brings out the sweet flavor! Seriously, so good!
Thanksgiving Dinner – Cornbread, especially southern cornbread like this, is the perfect side for Thanksgiving dinner. And this easy recipe doesn't add much prep time to your busy day. You can even make it a week ahead of time and use it as the bread for your stuffing!
Christmas Dinner – Like Thanksgiving, Christmas is the perfect time to put cornbread on the dinner table. It pairs really well with ham and even cranberry sauce!
Chili Night – Cornbread is a staple in my house when making chili! The sweet buttery crust is one of my favorite things to soak up the last bit of chili in the bottom of my bowl! Just add a piece of cornbread to the bottom of your bowl or serve it on the side, it is a perfect pair with spicy or salty food.
Anytime there is a need or want for bread it's a must have side dish! Great cornbread goes with so many things in my opinion 🙂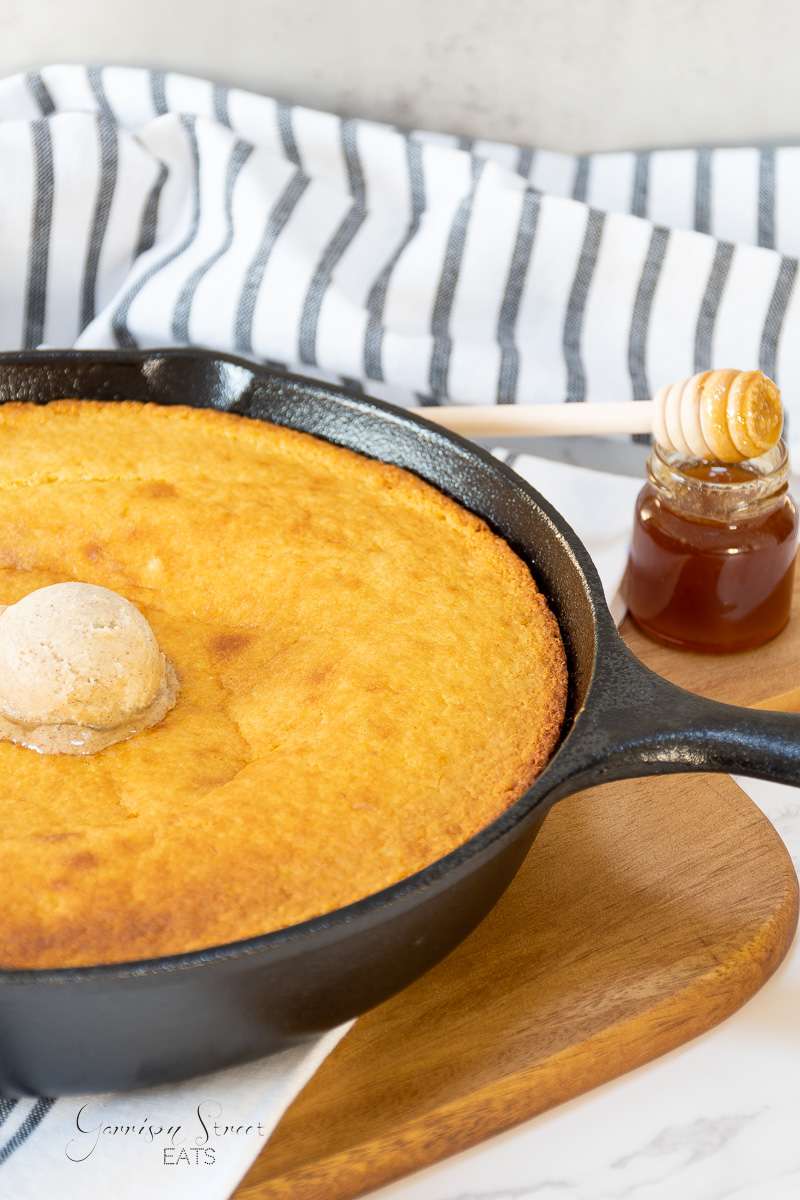 Storage
In the event you have leftover cornbread, store in an air tight container for up to 1 week. For best results, I do not recommend storing in the fridge as it will dry out the bread. Make sure you wrap it up tightly if you are using aluminum foil or plastic wrap.
Did you love this recipe? Give it a five star rating and Tag @garrisonstreeteats on Instagram and hashtag it #garrisonsteats. Wanna save it and make it later? Hover over an image and save to Pinterest! And if you don't already follow me on social media (Instagram, Pinterest, or Facebook), I would love for us to be friends!
Love new recipes? Subscribe so you never have to ask what's on the menu. Delicious recipes delivered straight to your inbox 😉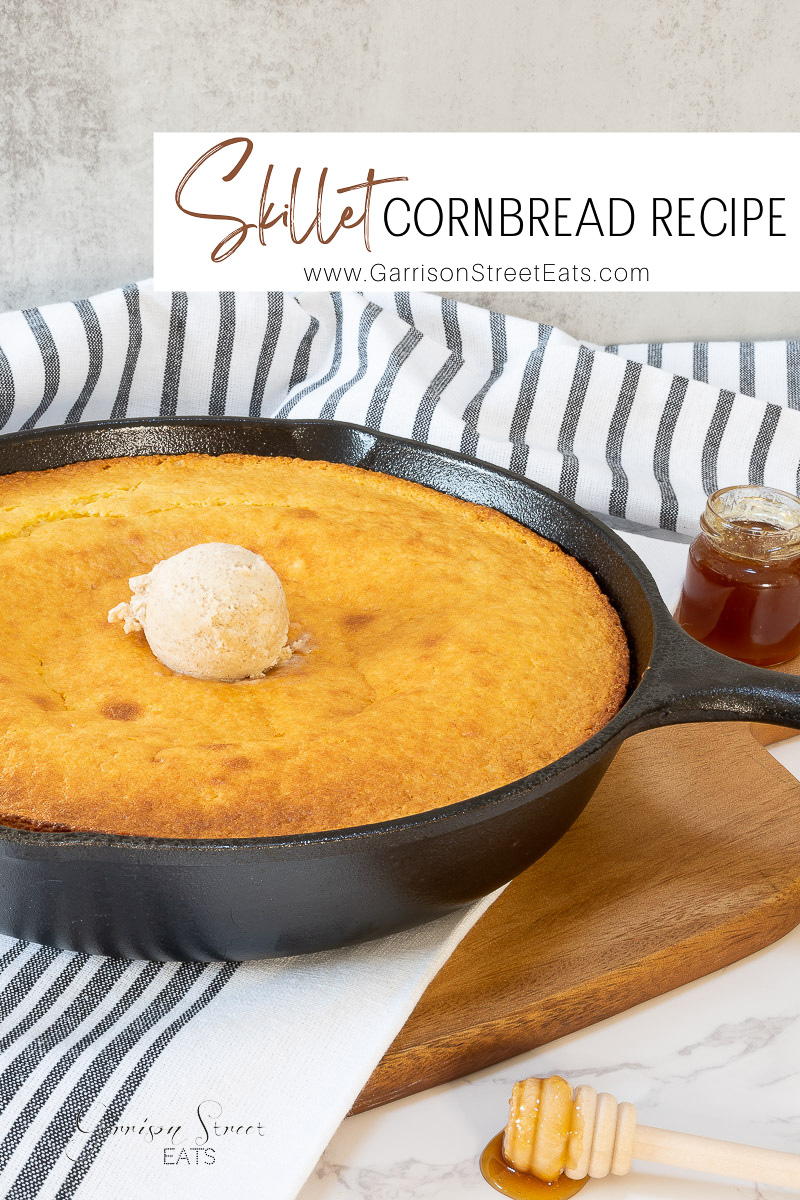 This post, Cast Iron Skillet Sweet Cornbread Recipe, appeared first on Garrison Street Eats.