Cranberry Relish vs Cranberry Sauce
Thanksgiving and Christmas are definitely big holidays at my house and neither could be the same without fresh cranberry sauce! Many of the homemade cranberry sauce recipes I have seen call for canned cranberry sauce, but my fresh cranberry relish recipe is full of fresh ingredients with so much flavor, it is a welcome addition to your holiday meal. The fresh cranberries are the perfect balance to a smoked turkey and make the best leftover turkey sandwiches!
This post contains affiliate links. Please see my privacy policy for more information.
Cranberry Relish vs Cranberry Sauce?
What is the difference between cranberry sauce and cranberry relish? The main difference is a sauce is typically blended in a food processor for a smoother consistency similar to a condiment or a liquid. Where as a relish is usually a chunkier sauce and tends to have some amount of sugar or vinegar to act as a preserve.
Best Cranberry Sauce Recipe Ingredients
While the ingredients are simple in this fresh homemade cranberry relish recipe, I do have a few notes for you.
Fresh Cranberries – I always make my cranberry relish with a 12-ounce bag of cranberries. You will need to cook them briefly over medium-high heat to get them to open up, but fresh is the way to go! The tart flavor really pairs well with turkey. Canned recipes always feel like cranberry jelly to me which lacks those fresh flavors.
Sugar – I always use plain granulated white sugar. This acts as a sweetener and gets the cranberries to release their juices. Adding sugar to fruit to draw out their juices and natural sweetness is called maceration. The combination of the fruits' juices and the sugar then creates a syrup. Similar methods may also use red wine, orange juice, or orange liqueur like Grand Marnier.
Garlic – In my opinion garlic makes everything better! I keep a jar of minced garlic in the fridge which is perfect for this recipe.
Jalapenos – If you are not into spicy food you can leave this out or use less and take the seeds out. If you like sweet and spicy, you will love this addition. I usually use 1-3 jalapenos, gauging the heat based on who will be sitting at my Thanksgiving table.
Cilantro – Fresh Cilantro is one of my favorite ways to add freshness to a dish. It adds subtle flavor but really takes it up a notch.
Green Onions – Green onions add a ton of flavor to any dish. For this recipe I use the green and white part of the onion, cutting just above the roots.
Limes – The juice and the zest! Did you know the peels of citrus fruit have even more flavor than the juices? Adding the zest is another great way to add flavor to dish. I have seen other recipes that use orange zest or lemon juice instead of lime, but I prefer lime in this recipe.
Ginger – This one is optional, but it definitely adds another level of freshness. I keep fresh ginger root in my freezer so I simply used my zester to grate a little bit over the top and I was not disappointed. If you don't have fresh ginger you can skip this ingredient.
Mixing – You will want to use a non-reactive bowl to mix this in. Because many of the ingredients have high acidity, you will want a bowl that won't react chemically with the ingredients. Glass, ceramic, and stainless steel will work best. If you are using plastic it should be non-staining plastic. I mix all of my ingredients with a spoon to keep that thick relish consistency.
Cranberry Relish Recipe
Cranberry Relish is a Thanksgiving and Christmas staple. This basic recipe is made with all fresh ingredients giving it a sweet and tart flavor perfect for your holiday table. It can even be served with chips as an appetizer. The real trick is having leftover cranberry sauce!
Ingredients
12

oz

fresh whole cranberries

1/2

cup

sugar

1

tsp

garlic

minced

1-3

jalapenos

chopped

3

green onions

chopped

1/4

cup

cilantro

chopped

1/2

lime

zest and juice

salt and pepper

to taste

1/2

tsp

ginger

fresh grated (optional)
Instructions
In a medium sized pot bring hot water to a boil.

Add cranberries to boiling water and reduce heat. Cook for 2-5 minutes until cranberries start to pop open.

Drain cranberries and let cool while you chop your other raw ingredients. I cool mine in the fridge.

Chop garlic, jalapenos, green onions and cilantro and set aside.

Add sugar and chopped ingredients to cooled cranberries and gently stir in.

Zest a half of a lime and squeeze the juice of half of lime into the cranberry mixture and stir in.

Add salt and black pepper to taste. I usually do a few shakes of each.

For an additional fresh component, grate some fresh ginger on the top and mix in (optional)

Add to your favorite serving dish and enjoy!

Store in the fridge in an airtight container for up to 5 days.
Notes
Fresh cranberries can be found in the produce section of your grocery store. They usually come in bags and are often by the brand Ocean Spray.
You can include the seeds or exclude the seeds of the jalapenos. The more seeds you use the spicier it will be. I usually use only a few seeds for a milder spice.
This recipe makes about two cups of homemade sauce.
For large gatherings with a lot of family members double the recipe.
In the event you have too much cranberry sauce, store in an air tight container for up to 5 days.
I do not recommend freezing, but it can be made a day ahead of time.
What to serve with cranberry relish
This festive holiday dish is the perfect sweet and tart compliment to both a Thanksgiving and Christmas feast. But I have a few different variations I have done with my leftover cranberry recipes.
Chips and dip – This cranberry relish can totally be served as salsa! In fact, I often eat it that way and it is a favorite appetizer around here! Just add it to a bowl and break out the tortilla chips! I could seriously make pounds of cranberries just to eat it this way.
Texas Roadhouse Butter – Ok, stick with me for a minute on this one. Every holiday season I use this easy recipe with my leftover smoked turkey, Hawaiian rolls, and Texas Roadhouse butter to make little turkey sandwiches. The combo of the sweet butter and the tartness of the relish paired with smoky turkey and some sharp cheddar cheese, seriously the best leftover lunch!
Thanksgiving Dinner – Cranberry sauce or relish is a staple on most peoples' holiday menu. It is the perfect side or accompaniment for Thanksgiving dinner.
Christmas Dinner – Like Thanksgiving, Christmas is the perfect time to put cranberries on the dinner table. It pairs really well with turkey and even cornbread!
Cranberry Relish Pizza – Ok, I know this sounds strange, but give me a chance. You all know we take pizza very seriously in my house, but on day three of Thanksgiving leftovers you start get a little burnt out. So last year I had the idea to make a cranberry smoked turkey pizza using the cranberry relish as the pizza base and the leftover turkey as the meat. It was definitely an experiment but it was actually REALLY good! It gave the pizza a lot of extra flavor!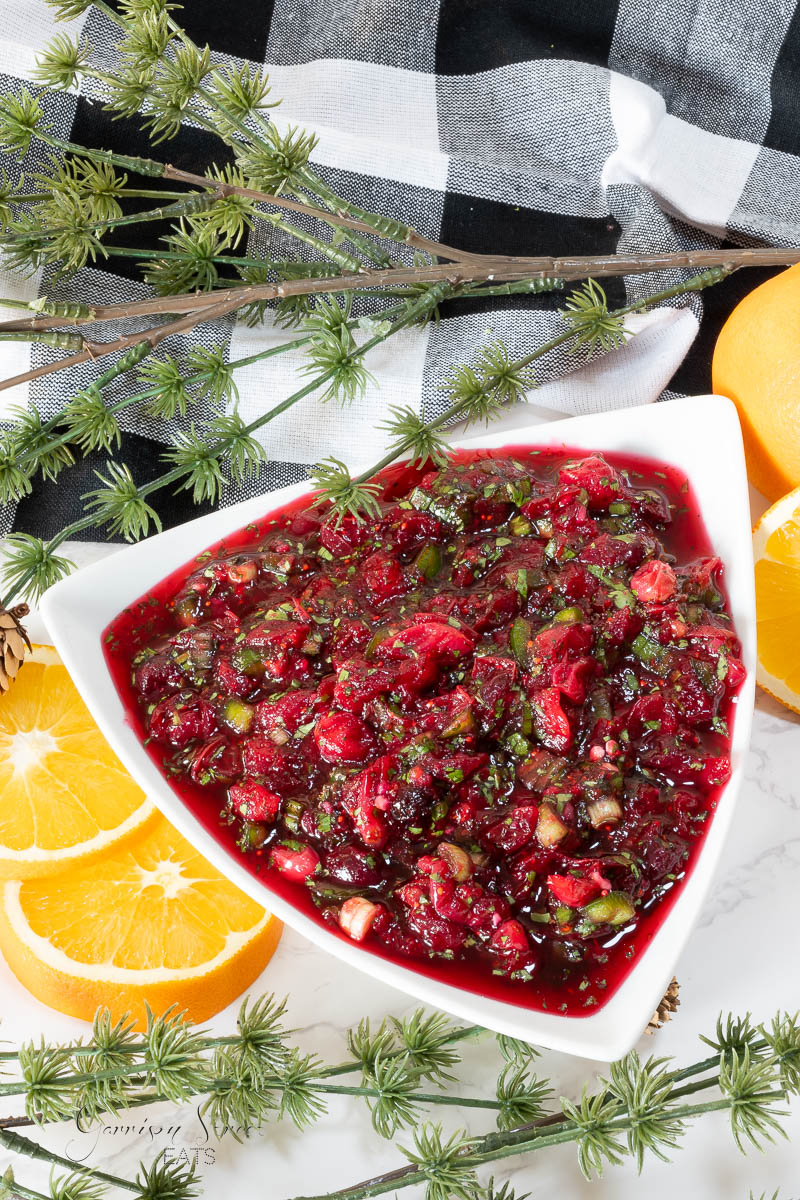 Storage
In the event you have leftover cranberry relish, store in an air tight container in the fridge for up to 5 days. For best results, I do not recommend freezing but it can be made a day ahead of time. The cranberries will actually make more cranberry juice the longer they sit.
Did you love this recipe? Give it a five star rating and Tag @garrisonstreeteats on Instagram and hashtag it #garrisonsteats. Wanna save it and make it later? Hover over an image and save to Pinterest! And if you don't already follow me on social media (Instagram, Pinterest, or Facebook), I would love for us to be friends!
Love new recipes? Subscribe so you never have to ask what's on the menu. Delicious recipes delivered straight to your inbox 😉
This post, Cranberry Relish vs Cranberry Sauce, appeared first on Garrison Street Eats.