Easy Pineapple Mango Green Smoothie
This refreshing tropical smoothie will have you thinking you are sitting on the beach! With only a handful of ingredients, this creamy pineapple mango smoothie is the perfect way to have a quick breakfast or snack on the go. All you need is some frozen fruits (pineapple chunks and fresh mango are perfect!), spinach, vanilla protein powder, water and milk to make this delicious mango pineapple smoothie recipe! The combination of tropical flavors and fresh fruit make this a household favorite among my homemade smoothies. Full recipe card below.
This post contains affiliate links. Please see my full disclosure policy for more information.
During the week I am not a big breakfast eater, so smoothies are one of my favorite ways to jump start my day with a healthy breakfast. A lot of smoothie recipes use Greek yogurt and fresh banana to create a thick smoothie, but this is not a yogurt smoothie or a banana smoothie. Which makes it a great option if you are allergic or don't eat dairy. Nonetheless, it is an easy breakfast smoothie with natural ingredients for a boost of energy in the morning or as a refreshing drink on a hot summer day.
Why I love this easy smoothie recipe
Quick: This healthy smoothie only takes a few minutes to make and while you are blending all your ingredients you can have the kitchen cleaned up so you are ready to walk out the door.
Easy: This is an easy recipe! There is no time consuming chopping involved here! While you can use fresh pineapple and mango, I prefer to use frozen fruits for convenience and then they also act as your ice cubes.
Taste: I know you might be afraid of the spinach, but I promise you can't even taste it! This healthy mango pineapple smoothie tastes amazing and is full of tropical flavors. A delicious smoothie!
Filling: Many of the best tasting smoothies have a lot of added sugar from fruit juice and added sweeteners. This fruity smoothie gets all it's flavor from fresh ingredients and is full of fiber keeping you full longer!
Smoothie Basic Ingredients
This is a simple recipe but the best part is it can an be modified to your liking or dietary needs. All you need is the basic recipe to build your own refreshing smoothie.
Frozen Fruits. I usually buy a bag of frozen pineapple and frozen mango at the grocery store or Costco. I prefer to use frozen fruit over fresh fruit for convenience. Finding a ripe mango not in peak season can be tricky and cutting pineapple and mango is time consuming. Frozen fruit also acts as the ice in this smoothie and you don't need to add any extra.
Protein Powder. This vanilla flavored organic plant based protein powder is my favorite. I buy it at Costco, but they sell it on Amazon too. Not only does it have 21 grams of protein it has 5g of prebiotic + dietary fiber. It has a subtle oat taste which I think mixes well with my favorite smoothie recipes.
Liquid Ingredients. As with any smoothie making you will need a little bit of liquid to blend it all. I prefer to make mine with water and dairy milk. You can use all milk, but in my opinion it makes a thicker smoothie than I prefer. I usually use 2% milk, because it is better to cook with than skim, but you can use either one. You could also use a plant-based milk like almond milk, soy milk, coconut milk, oat milk, or coconut water for a vegan smoothie recipe, but these may change the taste a bit.
Honey. This one is definitely optional, but I like to add a little extra sweetness to mine. The more pineapple you use the sweeter the smoothie will be and will likely be sweet enough without the honey.
Spinach. This makes your creamy mango pineapple smoothie green (green in color and healthy ingredients). I know this option may not be for everyone, but it adds a lot of nutritional value and I promise you can't even tell it's in there! I usually add a few handfuls, about a cup packed down.
Get creative. Feel free to add extra fruits like frozen banana or passion fruit. Banana will make a really thick smoothie and passion fruit will make it taste like a tropical smoothie bowl.
Health Benefits
Pineapple – Not only does the tartness of the pineapple add amazing flavor, it is full of vitamin C! Pineapple also contains several vitamins and minerals that aid in digestion and metabolism. Just don't go too crazy because it is also high in sugar.
Mango – Like many other tropical fruits, mangos are also high in vitamin C and fiber and aid in digestive health. But like pineapple they can also be high in sugar.
Spinach – This leafy green is often referred to as a superfood and for good reason. It is full of vitamins and minerals that aid in heart health, bone health, energy levels, blood sugar, vision health, and weight loss just to name a few. In my book, there is no downfall to adding some spinach to your smoothie. You won't even taste it, I promise 😉
Easy Pineapple Mango Green Smoothie
Easy Mango Pineapple Smoothie! This tropical mango pineapple smoothie is a great way to start your day! With only a few simple ingredients it's a quick and easy healthy snack or breakfast you can take on the go.
Ingredients
2

cup

frozen pineapple chunks

2

cup

frozen mango chunks

1

cup

fresh spinach

1

tsp

honey

2

scoops

vanilla protein powder

optional

1 1/2

cup

water

1/2

cup

milk
Instructions
Combine all ingredients in a powerful blender in the order listed above.

Blend on high for 2 minutes or until smooth

Leftovers can be stored in the refrigerator for up to 12 hours.
Notes
If you use fresh fruit rather than frozen, you will need to add ice to the blender to make it cold. Reduce the amount of water added by the amount of ice added or you may end of with a watered down smoothie.
If your smoothie is too runny, add more fruit or milk. If your smoothie is too thick, add a little water. The consistency will vary based on the thickness of your liquid ingredients and amount of fruit you use.
For a vegan option, skip the honey and use water or a plant-based milk and plant based protein powder
For a higher protein option, add an additional scoop of protein powder
For extra nutrients add a teaspoon of chia seeds
For a little extra fresh flavor you can add a small amount of lime juice, lime zest, or even freshly grated ginger.
I do not recommend using fruit juices like orange juice or pineapple juice because they tend to be very high in sugar.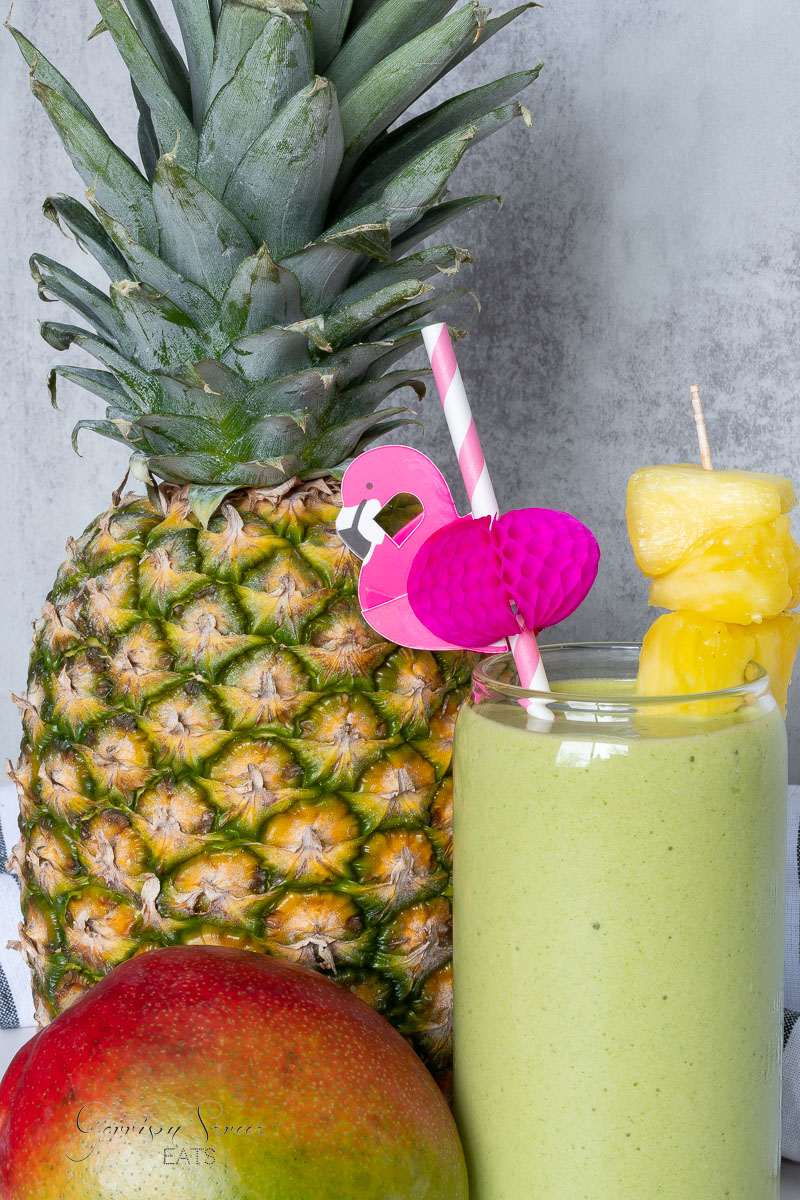 Blender Options
When making a smoothie it is very important to have a good quality high-speed blender to make sure your smoothie has a creamy consistency. I have had this blender for over 10 years now and it is a Rockstar. It blends frozen ingredients very well and even crushes ice like a pro. BUT I just upgraded and got this high-powered blender for Christmas and I am blown away! It made the silkiest, creamy smoothie I have ever had at home! It also has a food processor, a blender cup, and slices vegetables. You can even use it for cookie dough (I can't wait to try that one!) Trust me, you want a good blender or you will be sipping on water with weird chunks of fruit…..
It's that time of year when we all aspire to make healthier food choices. Love a good smoothie? Try my other easy fruit smoothie recipes.
Easy Peanut Butter and Jelly Frozen Fruit Smoothie – Mixed berries and peanut butter make this taste just like a peanut butter and jelly sandwich!
Did you love this recipe? Give it a five star rating and tag @garrison.street.eats on Instagram and hashtag it #garrisonsteats. Wanna save it and make it later? Hover over an image and save to Pinterest! And if you don't already follow me on Instagram, Pinterest, TikTok or Facebook, I would love for us to be friends!
Love new recipes? Subscribe so you never have to ask what's on the menu 😉
This recipe, Easy Pineapple Mango Green Smoothie, appeared first on Garrison Street Eats.